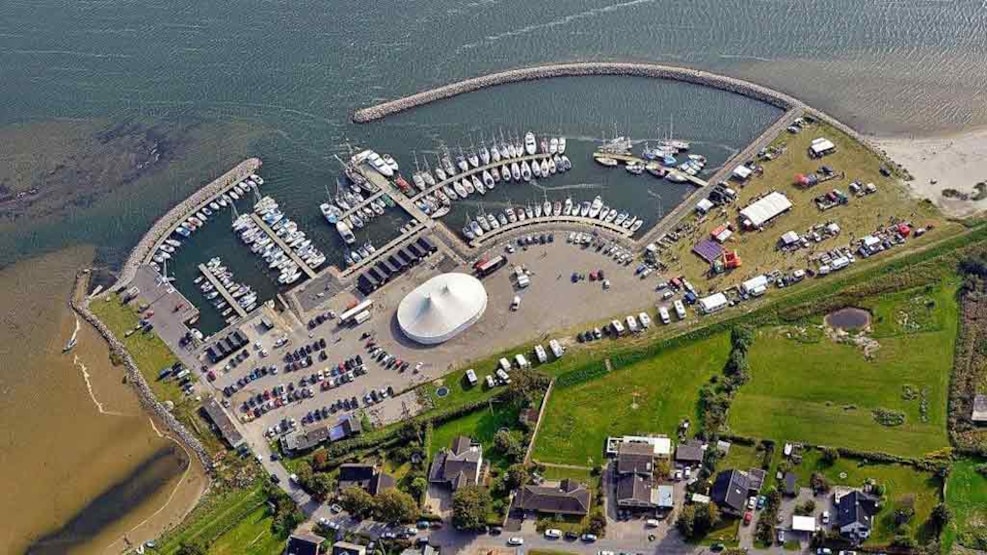 Marina Udbyhøj
Udbyhøj Marina is suitable for an outing for the whole family. The harbor is beautifully situated at Randers Fjord and is part of the Randers Fjord Nature Park. You can borrow equipment such as crab catchers, fishing nets etc. in the marina's equipment base. 
The marina for everyone
Udbyhøj is a small port, which is divided in two by Randers Fjord. On the north side is the marina, Udbyhøj Lystbådehavn, and Udbyhøj Strand (Udbyhøj Beach). The north and south of Udbyhøj are connected by a ferry.
The marina has around 200 berths and good facilities. These include its own filling station, beach volleyball courts, and toilet and swimming facilities. The marina is, along with many other harbours, sailing clubs and sailing associations in Denmark and on the German, Swedish and Norwegian coasts, connected to Frihavnsordningen (the Free Port Scheme). There is an area for fires, a building to eat your own food in, as well as benches and tables. There is a slipway at Udbyhøj Havn (Udbyhøj Harbour). A charge must be paid for using the slipway.
Family trip
The marina of Udbyhøj Lystbådehavn is well suited to a family visit. The area is part of Natural Park Randers Fjord. At the harbour's equipment base, you can loan items like crab nets, fishing nets, binoculars and microscopes. The equipment is good to have with you when looking for crabs or studying small aquatic animals and birds.
Fishing
If you like fishing, Randers Fjord offers some wonderful opportunities. With its 28 kilometres of coast, it is part of the Gudenå river system. The area is a paradise for trout fishing, but you can also fish for garfish, mackerel and salmon. It also home to mullet, several species of flatfish, herring and mussels. In Randers Fjord and the area nearby, there are many good fishing grounds.  
See what others are sharing on Instagram