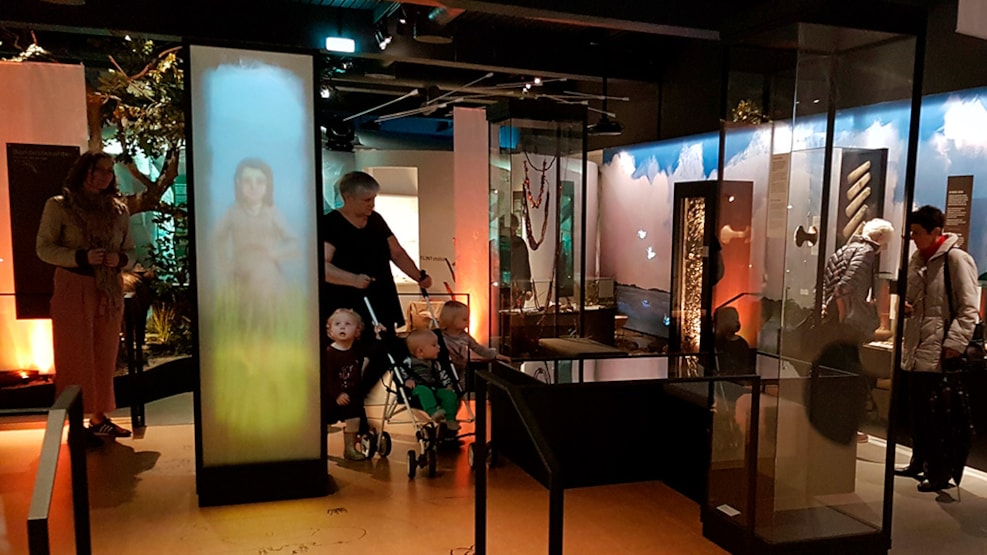 Museum Østjylland Randers
Museum Østjylland can be found on several locations around the region. At Museum Østjylland Randers, you get to go on an exciting cultural-history journey from the antiquity up until present day. The museum displays history in a playful and humorous fashion that appeals to every one of your senses.
In the permanent exhibits, you can learn about life around Randers and the town's vicinity dating all the way back to the first known presence of man 100.000 years ago and up until today.
Middle Age Man
The Middle Ages was an absolutely fascinating era, filled with drama that has brought about a large number of myths. At this permanent exhibition, you get to meet the proud knight on horseback, the poor shoemaker and his family, and the Helligåndsklostrets convent prior, who generously shared good advice on haemorrhoids, arthritis, and podagra. A lot of work has gone into creating various lasting sensory impressions that will take you back to times past. You can even let your children dress up as a monk or a noblewoman, try on the knights' weapons, and join in on entertaining Medieval games.
Museum Østjylland and its Many Museums
Museum Østjylland was founded in 1872 and is one of the oldest and largest local museums in all of Denmark. Here, you will find changing exhibitions, fascinating digital exhibitions, activities for children and much more. Furthermore, Museum Østjylland has exhibitions and museums in Grenaa and Ebeltoft. 
Admission is free to Museum Østjylland in Randers, which is open Tuesday through Sunday from 10:00 a.m. to 4:00 p.m. all year round.
The museum is closed on the 24th, 25th, 26th, and 31st of December.
See what others are sharing on Instagram