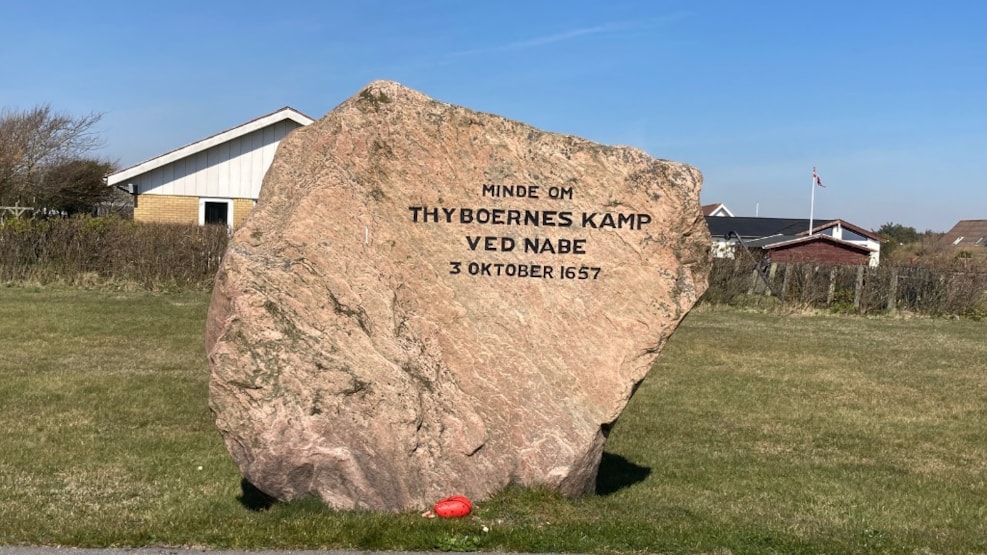 The Nabe Stone - The Battle at Nabe in Thy
On the isthmus Agger Tange, a bloody battle took place in 1657, when the Swedes advanced along the isthmus and struck the Thybos at the now vanished town, Nabe.
The memorial stone at Agger marks this black day in the history of the Thybos.
In 1657, brave locals from Agger tried to stop the Swedish troops, which the Swedish king Karl Gustav had ordered over the isthmus Agger Tange towards North Jutland.
At the narrowest point of the isthmus, they were greeted by a large group of locals from Agger, who went to attack the Swedes. The battle was fought at the small fishing village of Nabe, and therefore the battle has since been named the Battle of Nabe.
However, the peasant army could not beat the Swedes, and the result was that 20 residents from Agger were cut down. But even though the people of Agger had to give up, a memorial stone was erected in honor of the local men.
The village of Nabe is being searched for in vain today. The place where it was located is now more than 1 kilometer out in the North Sea.