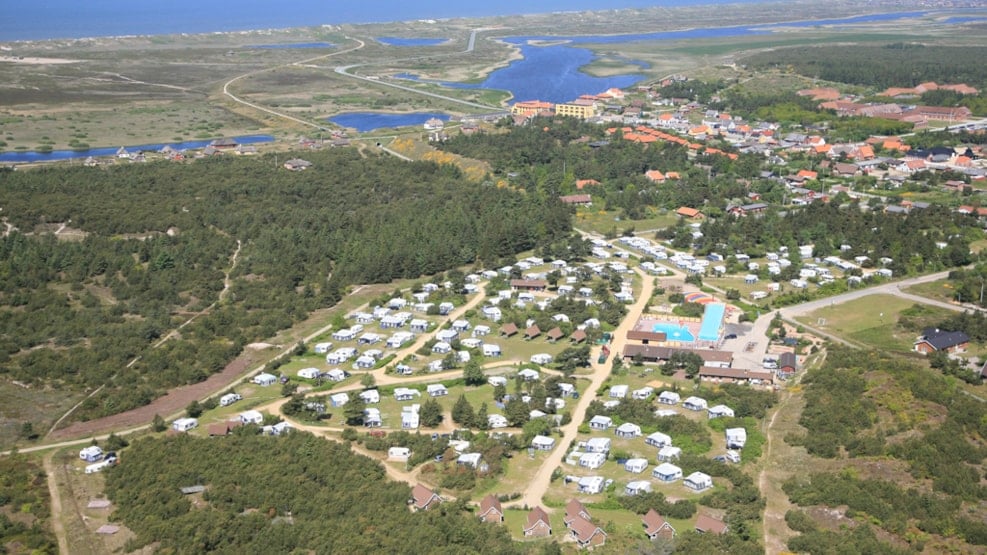 Nymindegab Familie Camping
Surrounded by sand hills and nature you will find Nymindegab Family Camping. Here you will experience a completely unique peace close to the North Sea and the Fjord. At the campsite, you can relax with those you care about.
Only 1 km to the North Sea and close to Ringkøbing Fjord, in quiet and very child-friendly surroundings, you will find Nymindegab Familie Camping.
The area offers many opportunities for activities and excursions such as hiking and biking, swimming, windsurfing, fishing, horse riding, museums, etc.
On the square, the family is welcomed with modern facilities and beautiful North Sea nature right on the square.
At Nymindegab Familie Camping, it is possible to rent or bring your own caravan. In addition, cabins and 2-storey tents are also offered for rent at the campsite.
There are plenty of shelter and cozy nooks, 3 service buildings, one with sauna.
In addition, there is a new water park with slide, spa zone, power channel and many other activities. The water park is heated with 27 degree hot water, and is open in the period April 30 - September 8. It is always free for guests to use the water park.
At the campsite you will also find Japanese-inspired mini golf, where you can challenge the family to an exciting round of mini golf.
In addition to this, the campsite also has a playground which is centrally located in the middle of the campsite. Here the children can quickly make new friends, and there are bouncy castles, slides, play stands, swings, sandboxes and the opportunity for many hours of play and fun. Furthermore, the place also has animal folds with dwarf goats, who would very much like to be visited and petted.
On the site you will also find a new service building with family room, baby room and disabled toilet.

Nymindegab Familie Camping is located 8 km from Nørre Nebel, and has everything for the perfect family camping holiday.
For more information visit Nymindegab Familie Camping website.