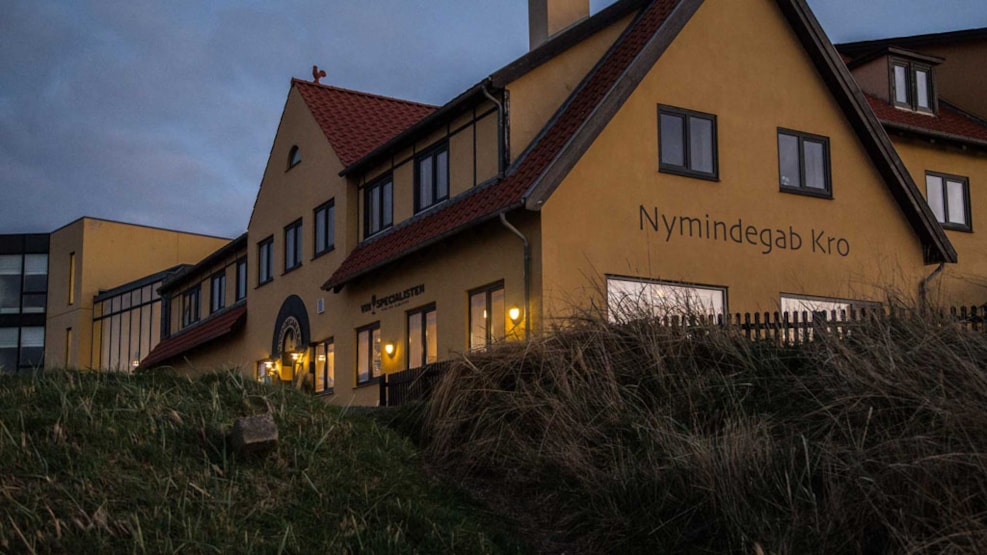 Nymindegab Inn
At Nymindegab Inn you can experience art, nature and gastronomic experiences.
Right out by the North Sea, high on the top of the dune, you will find Nymindegab Inn. Nymindegab Inn offers various options for accommodation with unique views of Ringkøbing Fjord, and a fantastic restaurant with taste experiences in a class of their own.
Nymindegab Inn is incredibly beautifully located at Ringkøbing Fjord, and only 500 meters from the rushing North Sea.
At Nymindegab Inn, many different options are offered for overnight stays, and offer a delicious meal, with a completely unique panoramic view of Ringkøbing Fjord.
An inn stay at Nymindegab Inn, can be many things. However, it is certain that you have the opportunity to have an unforgettable experience with the person or people you care about. No matter what, Nymindegab Inn can create the perfect setting for your stay. Nymindegab Inn offers many types of inn stays such as short breaks, gourmet inn stays, golf stays and many more.
Nymindegab Inn Restaurant is a playground for both the place's chefs and waiters. Gastronomy is something that Nymindegab Inn focuses a lot on, and especially the seasons are drawn into the menu. The restaurant at Nymindegab Inn is therefore a gastronomic experience where you can challenge your taste buds.
At Nymindegab Inn, they go to great lengths in their wines, and place a high value on it. Therefore, Nymindegab Inn can present the west coast's largest wine list, and their price philosophy is easy for you as a guest to see through their prices.
Around Nymindegab Inn, there are a wealth of opportunities to experience a unique West Jutland nature, or try fun activities such as the cable park in Hvide Sande.
Get more information and book your next stay on Nymindegab Inn website.