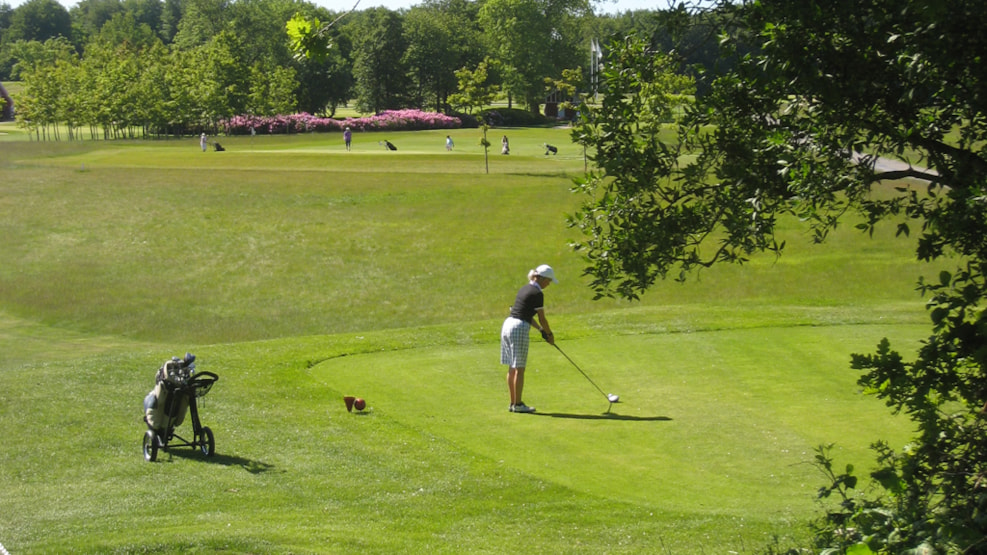 Odder Golf Club (Golfklub)
Odder Golf Club is scenically located by Åkjær Forest, built near old burial mounds, by the famous golf course architect Frederik Dreyer. If you are new to golf, you can try a game of golf at the Par-3 course, borrow equipment and finish off with a burger in the café.
Golf for beginners and experts
In picturesque surroundings, this golf course is surrounded by old manor forests only four kilometres from Odder. With its central location, it is easy to get there from all Eastern Jutland.
In addition to the 18-hole course, there is a five-hole par-3 course, driving range, a large green with two putting greens, and a club house with good shower facilities and a café.
The course is relatively hilly. It is fairly compact, with only a short distance from one green to the next tee.
The course is surrounded by forest, so it is easy to find shelter, regardless of the wind direction. Some of the greens have an elevated location on top of burial mounds.
It is also worth noting that the course is laid on sandy soil. Therefore, one can often play in Odder, when other courses suffer from too much rainfall.
Try Golf & Burger for only 180,- DKK
If you want to enjoy the sport, try the Odder Golf Club's special deal "Golf & Burger", which is valid from April to October. With this offer you get the opportunity to enjoy a good day at the club, play on Pair-3 course and finish off with a lunch burger in the café. The price includes loan of golf equipment.
You can also choose to bring a tutor to the course. One hour of coaching and golf on the par-3 course costs 250 per person.