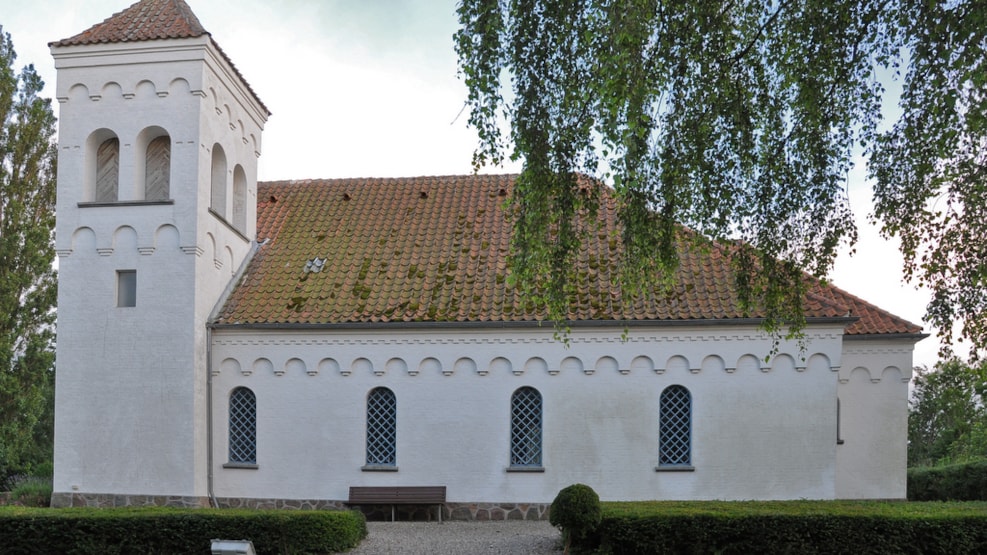 Ørby Kirke
Like the church in Langøre, Ørby Church is rather young. It was not until 1904 that the Samsø Post reported that: "The chapel in Ørby is nearing its completion and the baptismal font and church bell have arrived." Construction was initiated by the small town's congregation and there was broad support for the project among the 600 or so people that lived in Ørby.  The grounds upon which it was built was donated by farm owner Bertel Olsen and the architect, N. P. Nielsen from Copenhagen, created the drawings for free. The masonry was taken care of by Tønnes Jensen in Tranebjerg who offered to do the work for 3,774 DKK. The carpentry was carried out by joiner Bertel Olsen, from Tranebjerg, and the ornamentation was done by Troels Trier from Vallekilde. Chairs and benches were delivered by carver Bertel Olsen from Brundby. According to the "Samsø book" by John Roth Andersen, the total price of the church was 8,360 DKK, equivalent to 530,000 DKK in the currency of today.
The cemetery, which had previously been used as a square where dances and parties were held amongst other things, was not built until 1930 when its owner, Dorthea Olsen, had to sell the land for 0.80 DKK per square metre.
The baptismal font is reportedly from the Middle Ages and is thought to originate from the Ferritslev Church on Funen which was destroyed during the latter half of the 16th century. Before it came to Samsø, it had lived a rather tumultuous life. A man from the city of Rønninge on Funen purchased the font in order to use it as a duck trough. It later ended up with the blacksmith in Rønninge that used it as a slack tub. When the he died, the farm owner bought the font for 25 DKK and decorated it with aromatic evergreens. Pastor Bartholdy from Onsbjerg (the son of the priest in Rønninge) heard about this and approached the farm owner to ask if he could buy it. He suggested they repair it instead and mount it to a footrest so they could donate it to Ørby Church together. Thus, the baptismal font was transported to sculptor Møller in Kolding who skilfully brought it back to its former glory. Such was the winding road on the journey that led to the church getting its beautiful roman baptismal font.