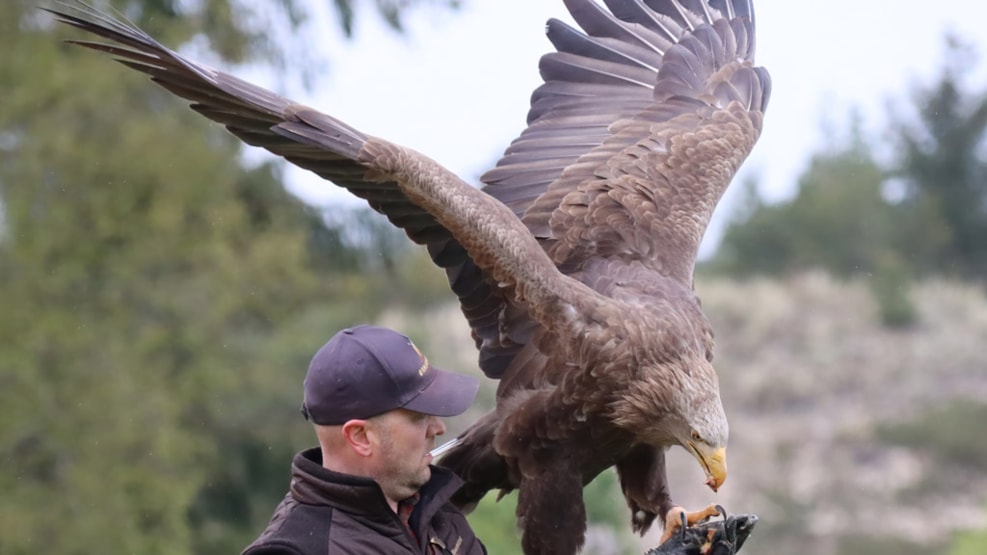 Ørnereservatet - Eagleworld
Get close to the kings of heaven - the eagles as they unfold just above the head of the audience. Get close to the big animals and see how the falconers demonstrate the birds of prey.
An attraction of world class and an experience for a lifetime!
In the Eagle Reserve's unique shows, you not only get the opportunity to experience and learn about the earliest relation in man's relationship with birds of prey; we make sure to take you on a journey from the Viking Age up through history with classic falconry and right up to today's technological development.
Our shows are always held outdoors on the stands that surround the lake of the Eagle Reserve, from which you have a view of the magnificent terrain as a background. With this, the stage is set for the audience to experience the birds of prey displaying their fantastic flying abilities in beautiful natural surroundings and the free and fresh air, here at Skagen.
During the performance, which lasts approx. 1 hour, you not only get a thorough introduction to both the world and Danish history of falconry as well as its use in the present, but also an insight into the biology of wild birds of prey. Our skilled presenters contribute with an interesting lecture alongside presenting the birds in their own way. So there is not only the rush of wings to feel here at the Eagle Reserve, but also a lot to learn.
At Ørnereservatet, they are proud not only to be able to show off our birds of prey from the ground - they always give the audience a completely unique experience that cannot be found anywhere else in the world. You get the opportunity to experience the birds up close when our falconers let them wander among the audience in the stands - You see the falcons being trained from the ground and in the difficult and classic discipline from horseback - You experience the eagles' acrobatics in the air above the display area and flying in interaction with horse and rider, and as something completely unique and modern, you can witness a genuine eagle car chase.
In the show, you will meet a large number of different species of birds of prey. In addition to the beautiful horses and the racing car, you see three lightning-fast falcon species, four different eagle species, the mythical Lamb's vulture and during the season there are also novelties, both four-legged and winged.
Video:https://youtu.be/Og96XAYoN7M 
Webside: www.eagleworld.dk
Facebook: https://www.facebook.com/eagleworld9881
Instagram: https://www.instagram.com/eagleworlddk/
For more information about opening hours and price, go to this link.