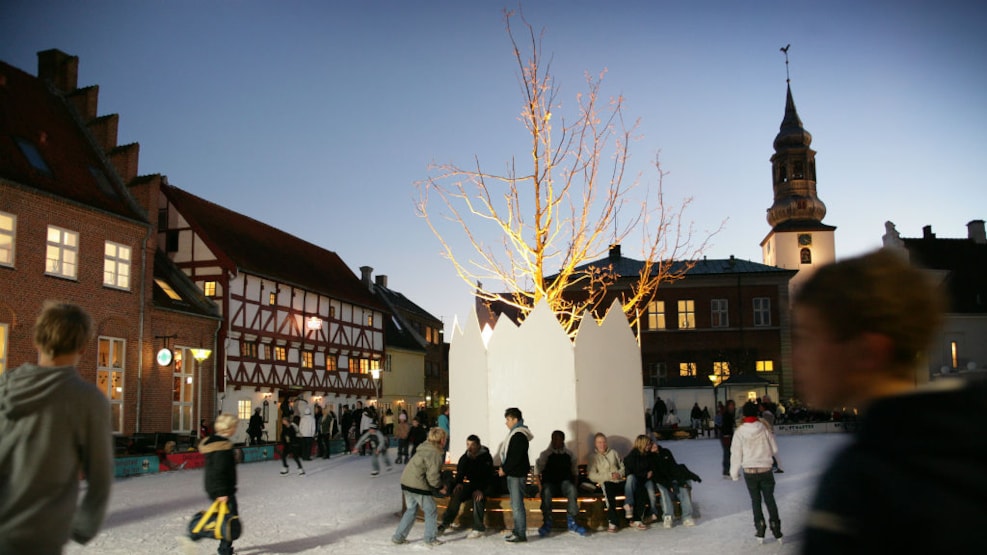 Outdoor ice skating rink
Every winter, the C.W. Obels Square is turned into a winter wonderland when the ice skating rink is being set up. Here, it is possible to try ice skating or to visit the christmas market which is near by.
A stone's throw from the heart of the city lies the charming C.W. Obels Plads, which, with its embrace of small cafes and inviting restaurants, forms the perfect setting for the ice rink. Throughout the winter season, it provides a space for countless laughs and bruises and is a gathering place for all ice-skating enthusiasts - both residents of Aalborg and others. With the many dining and drinking options within reach, you can easily grab a nice cup of coffee or a delicious lunch after activities on the ice rink. In December, you can combine a skate on the ice rink with a visit to the Christmas market on Gammeltorv, which is located next to the square.
An ice rink with traditions
C.W. Obels Plads has for many decades provided the backdrop for a romantic ice-skating trip or a humiliating cheek kiss with the ice rink and will continue to create new memories for many years to come. The municipality of Aalborg has set itself the goal of maintaining the tradition of an ice rink on C.W. Obels Plads and has the facilities in mind, so you don't have to worry that the rink is not in tip-top condition.
Skate rental
You can rent skates for children and adults for DKK 40 per pair.
Payment can be made by card or MobilePay.
The opening hours of the skate rental are:
Weekdays: 15:00-20:00
Saturdays/Sundays: 14:00-20:00
Weekdays during school holidays: 14:00-20:00
The skate rental is closed on the following dates:
December 24, December 25, December 31, and January 1.
Contact
Contact in even weeks - Aalborg Skating Club Tel.: 3030 1850
Contact in odd weeks - AaB Ice Hockey Tel.: 4044 0455