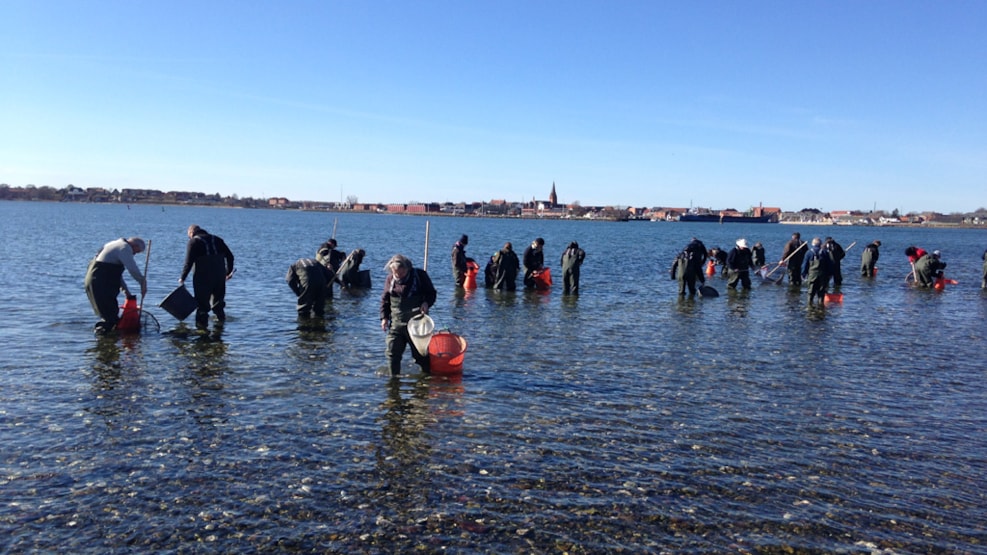 Oyster Safari
Get up close to fresh oysters and get tips on how to cook and prepare them, and the get the latest knowledge and an understanding of the wildlife that exists right outside our door. We equip ourselves with waders and a bucket, and then we will find an exciting place by the fjord, where we go oyster hunting. We will find both the Pacific oysters and the European flat oysters. The guide will advice on how to open and prepare the delicacies and how to avoid an upset stomach. There is a world of wondrous life in the fjord, so you will certainly also meet other interesting animals, on the tour.  The tour ends at the center, where we will enjoy a nice glass of wine and the catch of the day. Delicious and tasty recipes are available as handouts. You are of course more than welcome to take the oyster you have collected with you home.
Duration: approx. 2 hours
Practical information: Danish Shellfish Centre has waders in many different shoe sizes, so if you do not have a pair yourself, it's no problem. Come wearing clothes that fit the weather, and it's also a good idea to bring a towel and a dry set of clothes. 
Minimum number of participants: The tour will be conducted at a minimum of 14 people. If there are not enough registrations for the event, you will be contacted by Morsø Tourist Office.
The price incl. VAT. The price includes waders, bucket, nets, etc. A glass of wine and a lot of oysters, which you yourself have collected.
The event is booked through Morsø Tourist Office.