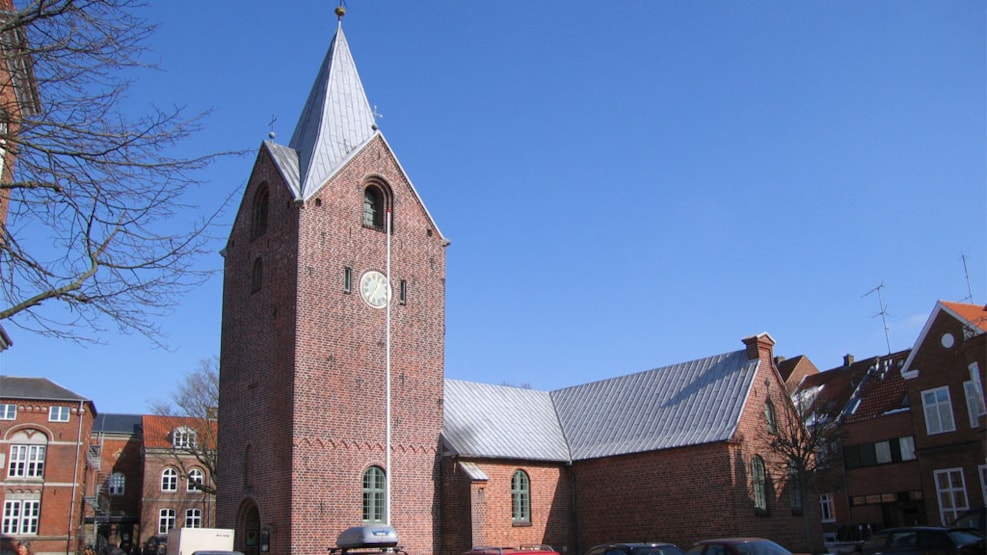 Ringkøbing Church
Ringkøbing Church was built in the first half of the 15th century, and is beautifully situated in the middle of the city on Kirkepladsen east of Torvet. The church has been expanded several times, and has therefore been continuously renovated. For this reason, both the interior and exterior clearly bear the mark of the different periods. Ringkøbing Church is therefore a very special visit, as it is beautifully decorated in both new and old style.
The church dates from the first half of the 15th century, but has been expanded several times. It probably replaced an older church. The church masonry is of red monk stone, but for more than 100 years it was whitewashed.
The architecture is, moreover, characterized by Gothic dating to the 14th century. The tower was built shortly after the Reformation approx. 1550 and has the distinctive feature that it is widest at the top. The north wing is from 1592-93. The pulpit, which is from 1593 and a gift from Mayor Fr. Shrub, is a beautiful piece of wood carving in Renaissance style. During the great restoration in 1934-35, the church received the southern cross arm. In 1995-96, the church room underwent a major renovation, whereby the historic furniture has been restored, and not least the new altarpiece by the artist Arne Haugen Sørensen helps to make its mark on the church room. Also the new baptismal font, designed by Arne Haugen Sørensen and manufactured by Per Hebsgaard.
The church's old organ facade from 1633 has been preserved. The old baroque organ has been reconstructed and was inaugurated on Palm Sunday in 2019. The organ attracts organ connoisseurs from home and abroad and provides unique concert experiences. The old altarpiece by Sophus Schack now hangs in the southern cross arm near the new organ. A limestone sundial can be seen on the outside walled in in the church's westernmost buttress to the south. It is from 1728.
In addition, Ringkøbing Church also has a newer chapel from 2008. Ringkøbing Chapel was designed by the architectural firm Vilhelmsen, Marxen & Bech-Jensen A/S. The complex contains both a chapel hall, chapel office, reception room, cold room and facilities for the staff. In September 2009, the hall was decorated with a three-part beautiful work of art by Jette Vohlert.
Find more information about services and much more on Ringkøbing Church's website.