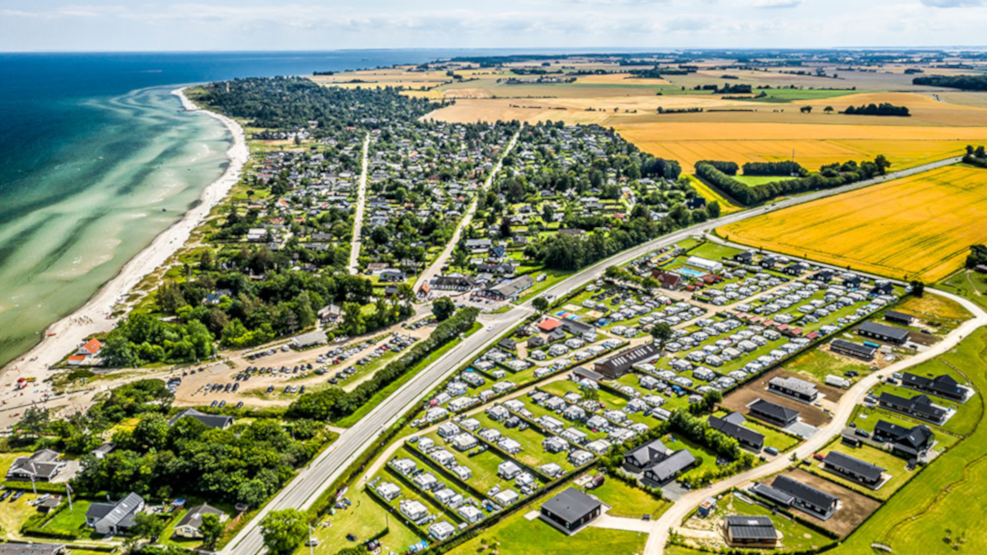 Saksild Beach Camping (Saksild Strand Camping)
Located next to one of Denmark's best and most child-friendly beaches, this camping site will give you the perfect setting for unforgettable holiday experiences.
Seaside camping site for the whole family
You simply cannot find a better location for the coastal holiday at the Danish east coast. Only 200 metres from Saksild Beach, this camping site is the ideal base with great facilities and many options for activities.
Caravan, cabin, or luxury tent?
If you do not have your own mobile home, then do not worry. At Saksild Strand Camping you have the option to rent cosy, well-equipped wooden cabins in many sizes.
Each cabin has its own kitchen, and some are even equipped with SmartTV and air-conditioning system. The cabins are spacious and comfortable, at affordable prices.
You can also try luxury camping in the glamping tents that are fully furnished. There are two bedrooms with comfortable beds and a big, roofed veranda.
Great facilities
No matter which accommodation type you choose, you get access to the camping site's good facilities. The kitchen facilities are modern with the option to cook inside or in the outdoor kitchen. The service building has bathing facilities and a separate facilities for children, including changing table, bathtub and toilets and sinks at different heights.
Children can romp in the heated pool, at the playing field or the fun new playground. Events are often organized for children, so there is no risk that the family's youngest members will be bored.
Equipment for outdoor activities
At Saksild Strand Camping you can rent equipment for many outdoor activities. The flat summer landscape around Saksild provides a great setting for the bike ride. You can rent both mountain bikes and city bikes – and if you need some assistance on the hills, then choose an electric bicycle.
Or why not explore the Saksild Bay on water? You can rent motorboats, paddleboards in different sizes and different types of kayaks.
You are not required to stay at the camping site in order to rent equipment. Everyone is welcome.
Camping all year
Camping is wonderful all year round – not just during the bathing season. At wintertime, Saksild Strand Camping is open on weekends. At this time of year, the Odder Coast is more peaceful, and you have ample opportunity to relax and unwind.
Bring the dog
At Saksild Strand Camping they know that the dog is an important member of the family. Of course, the dog also deserves a great holiday. You can bring man's best friend for free is you have your own caravan. If you choose to rent a cabin or a glamping tent, you will have to pay a small amount.
Book your stay
Are you ready for a lovely Danish coastal holiday for the whole family? Follow this link and book your stay.
About Saksild Beach
Saksild Beach is probably the best and most child-friendly beach on the east coast of Jutland. Here, lifeguards will look out for the children who can safely bathe in the calm, shallow water. Around the beach is eateries, shopping facilities and activities – and you are not far from Aarhus, Odder or the marinas at the Odder Coast.
You can read more about the Saksild area on this page.