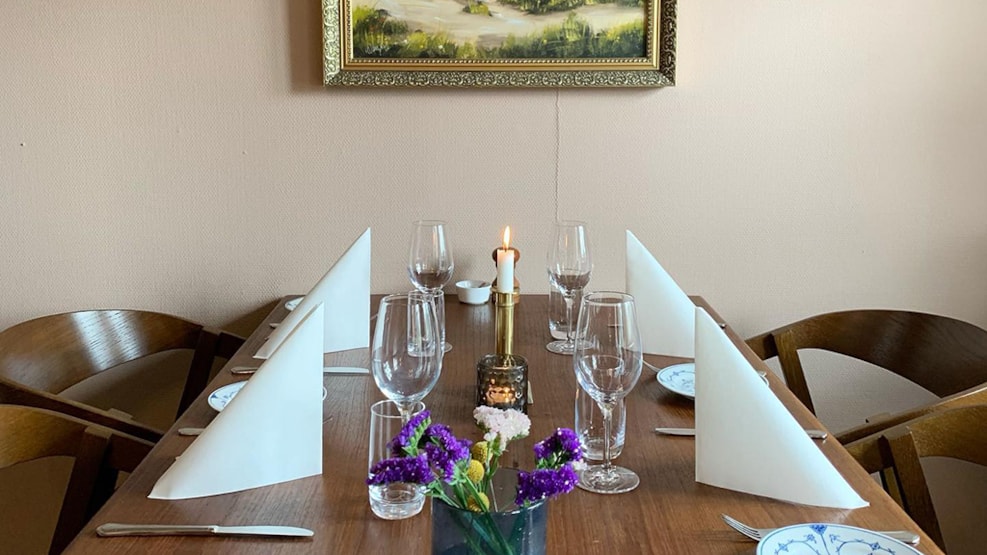 Sandvad Kro
Located in the beautiful forested landscape between Silkeborg and Horsens, near the attraction The Uncovered Bridge, the historic Sandvad Kro (inn) serves modernized versions of traditional Danish dishes.
Historic restaurant in Bakkelandet
Sandvad Kro (inn) has a long history, dating all the way back to the 16th century. Today, the inn no longer offers accommodation, but the long-held tradition of local, unpretentious food in authentic and intimate surroundings is still going strong. The interior and the approach to Danish traditional dishes have been delicately modernized - and with a location in one of Denmark's most scenic landscapes, Bakkelandet, Sandvad Kro is a natural stopping point on your way to The Uncovered Bridge or the 'mountain' The Sugar Loaf. 
A light lunch or a three-course dinner
At Sandvad Kro, the menu reflects the inn's high standards for local, quality ingredients. 
For a light lunch, try the inn's charcuterie – or perhaps the moules Frites, the tarteletter, (Danish patty shells with chicken fillings), a salad with salmon, or a classic steak.
The evening menu is comprised of a three-course option, with a large selection of veal, pork, poultry, or fish. However, keep room for the savoring dessert choices. 
See the current menu on Sanvad Kro's webpage.
Coffee and cake
If you are just stopping by for a quick break and a cup of coffee, you are more than welcome! During the afternoon, Sanvad Kro offers homemade cake and your choice of cold or hot beverages.  
Bakkelandet - one of Denmark's most beautiful places
Sandvad Kro is located just north of Horsens between the two villages Østbirk and Vestbirk, in the hilly and forested natural area Bakkelandet. Here, some of Denmark's tallest peaks can be found, including Yding Skovhøj, The Sugar Loaf, Ejer Bavnehøj, and Slaggård Banke. With a vast number of woods and lakes, the area is a favorite spot for hikers and outdoor enthusiasts. The scenic bike route Nature Path Horsens-Silkeborg passes by both Sandvad kro and The Uncovered Bridge. 
Additionally, Sanvad Kro is located right next to Fyel Bathing Lake and Fyelmose Put & Take, which are among the best in the region.