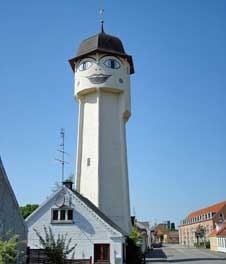 Saxine
Saxine (also known as the smiling water tower) is a 33 metet tal water tower, situated in Sakskøbing.
The tower is the trademark of the city was build in 1908 by Chrisiani & Nielsen, but Saxines did not recieve her smile until 1982, when the arcitecht Flemming Skude decorated it. 
the smile has been repainted in 2013, so it appears as it was orginally painted in 1982.