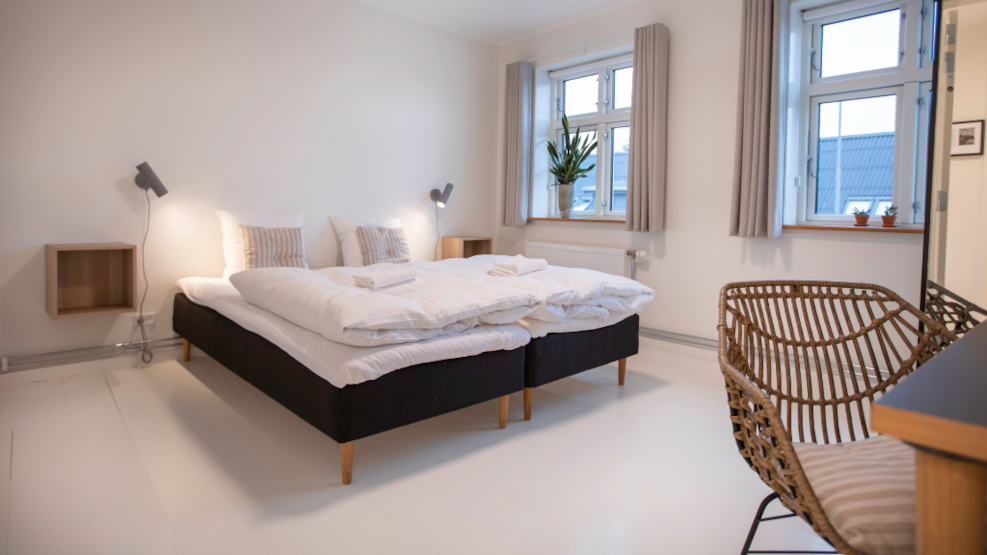 Skovsgård Hotel
A different hotel
Skovsgård Hotel is run as a socioeconomic entreprise.  Part of the employees at the hotel are hired on special terms, due to the fact that it has been difficult for them to get a foothold in the ordinary labour market. Here there is a meaningful job for anyone. Equality is highly valued. Everyone is good for something and contributes with something. Together we can manage anything!
Focus on quality and good raw materials
We love food. Taste and quality are given pride of place. The food is prepared from scratch. We always use good raw materials, partly organic and local products.
Personal service
There is room for anyone in spite of differences. The staff is very multifarious. However, you will always be met with a humane warmth, wry humour and a unique service, when you visit Skovsgård Hotel.
Locally rooted comprises
Skovsgård Hotel comprises a restaurant, concert area, community centre, overnight accomodations, but first and foremost it is a local haunt for anyone. The hotel is owned by many locals, who have bought a share of D.kr. 1000,- in Skovsgård Hotel. The hotel is run on non-profit terms, which means that a possible profit is transferred to the hotel.
Courses and meetings at Skovsgård Hotel
Skovsgård Hotel welcomes participants in courses and meetings. Besides excellent food and warm-hearted service, you will find the latest AV equipment for your course or meeting.
Drop in
As Skovsgård Hotel differs a little from other hotels the restaurant is not always open. However, it is possible to stay the night with us. Sometimes, it is possible to have dinner at the hotel outside opening hours in connection with parties, concerts etc. Usually, breakfast is served from 8.30 a.m. as arranged from Monday to Friday. Alternatively, you may use a small kitchenette in the corridor with rooms. There is a co-op with a baker's shop just opposite the hotel. Opening hours from 7 a.m.
Opening hours telephone
Monday: 9.00-12.00 a.m.
Tuesday and Wednesday: 09.00-03.00 p.m.
Thursday and Friday: 09.00-08.00p.m.