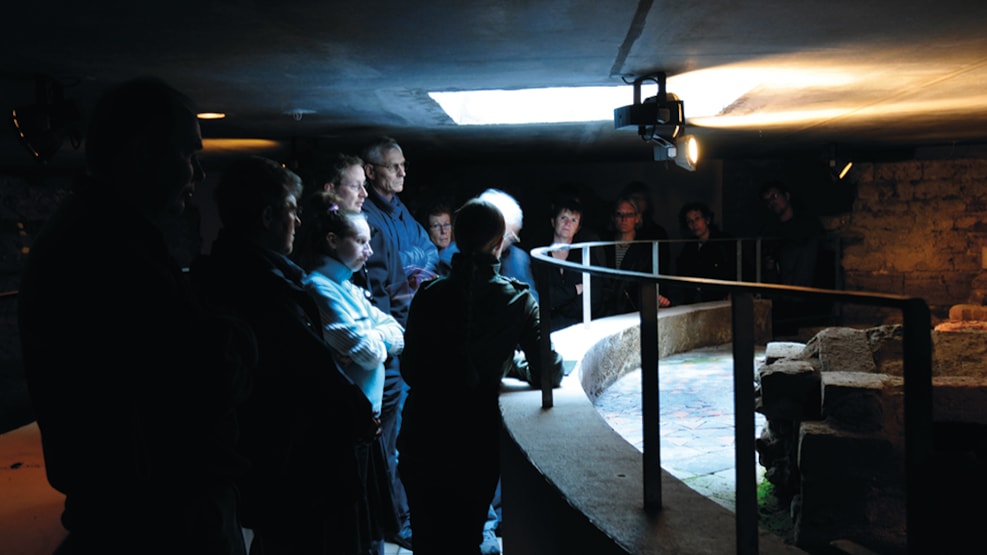 Skt. Laurentius (St. Lawrence)

The medieval Saint Lawrence church, with its famous tiled floor, lies beneath the market square, Stændertorvet, where a small museum has been set up with finds from the archaeological excavation carried out in 1998.
Like other of the town's churches, Saint Lawrence church was built of travertine, although brick was used for subsequent alterations. Towards the end of the Middle Ages the nave was extended to the west and the church tower, still in existence, was built there. Prior to the stone church a wooden church lay on the site, of which only graves have been found.
Only one section of the church from about 1125 has been excavated and can be seen today as part of the exhibition. The diagram above shows the plan of the church as it might have been, with its (possible) twin towers and the later porch.
An outline of the ground-plan of the church can be seen marked in the paving of Stændertorvet. This gives a good idea of the size of the church and its location in relation to the surrounding town. 
Saint Lawrence tower
The Saint Lawrence tower was built about 1500 as a tower for the Saint Lawrence church The ruins of the church itself can be seen below ground. The church was dedicated to one of the most popular medieval saints, Lawrence of Rome. A relief showing him can be seen in the outer wall of the tower. When the church was demolished during the Reformation, the tower was spared and became the "town tower". It was given a secular function in the life of the town – for bell-ringing and as the place where fire- watch was kept.
In 1731 the town hall in Algade burnt. A new was built four years later, now adjoining the Saint Lawrence tower. The church tower had become a town hall tower.