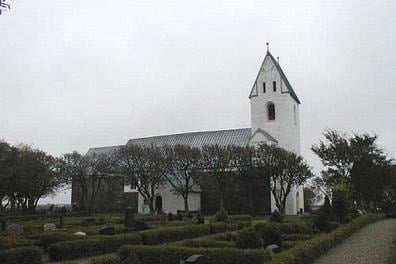 Stadil Church
Stadil Church is probably from the year 1200, and is a completely unique medieval church located between large plantations, the fjord, dunes and the North Sea. Stadil Church, as one of the few churches in Denmark, has a completely unique altarpiece, which is golden from around the 13th century. This is one of the only surviving altarpieces from Romanesque times. That is why Stadil Church is definitely worth a visit!
Stadil Church was built around the year 1200, and has a Romanesque choir and a nave of hewn granite stones. A picture block, as well as a block with an inscription, has been inserted in the south wall of the ship.
The choir in Stadil Church is dominated by a rarity, and is called the golden altar. There are only a few Danish village churches whose altar fronts are golden. This is the only preserved altarpiece from Romanesque times. The altarpiece in Stadil dates from around the 13th century, and consists of 14 different ornate fields, which show Jesus Christ surrounded by scenes from childhood history, as well as apostles, evangelist symbols and angels.
The baptismal font is made of granite, which the stonemason has been responsible for. Next to it is the octagonal renaissance font of wood with sky from about 1650. The pews are also renaissance work, and so is the large pulpit with ornate sound canopy.
The door to the porch is of the same age as the church itself, and therefore one of the oldest church doors in Denmark. Many famous personalities have walked in this door, such as the poet-priest Kaj Munk and the teacher I.C. Christensen, who later became a politician and prime minister.
Find more information on Stadil Church's website.