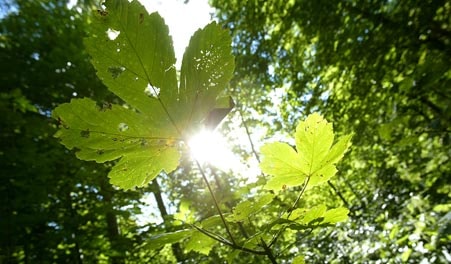 Svanholms Skove
Welcome to Svanholm's Forests and with 120 hectors filled with lovely natural areas. The forests surrounding Svanholm Estate has been owned and driven by Svanholm's large collective. Since 1978 Svanholm manor has been occupied by Svanholm's collective and has driven organic agriculture. Today Svanholm manor is the home of 80 adults and 60 children.
The forests own cycle plays a major role: The trees sow themselves, and some of the dead trees are allowed to decay, to the delight of the forest's microsystem. There is a separate leaflet for the routes in Svanholm Forrest. 
Lystskoven
Lystskoven, which is located west from Svanholm Alle, is characteric for it's 150 year old lime trees. The path is 800 meters long and leads through a newly renovated area that is presented in a romantic style from the 1800's with meandering paths and arched bridges. 
The trees here are allowed to stay when they fall, which creates a richer life of fungi and insects and a visible degradation process. The forest is very hilly and to the east lies Julianehøj, with its 69 meter Horn District's highest point: here is a nice view and on clear days you can see the sprouts at the Roskilde Cathedral and Herlev Hospital. Julianehøj is a tomb mound from ancient times. Read more about the old tomb mound Julianehøj.