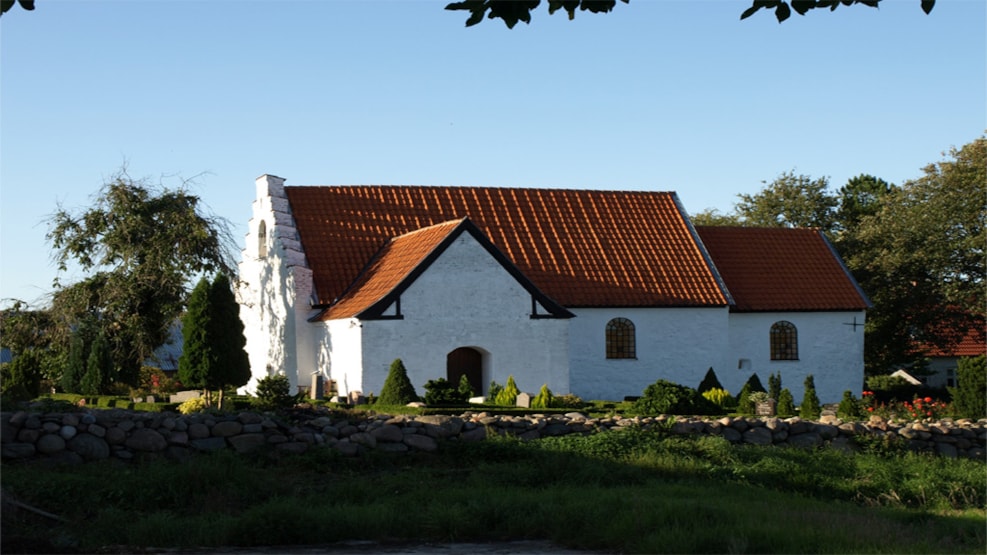 Vester Alling Church
15 km east of Randers in Norddjurs municipality is Vester Alling Kirke. The small church, consecrated to St. Jørgen, is of the charred type - that is, it consists of ship and choir as well as a later porch to the south.
Ship and choir are both from Roman times and made of raw granite with attached corner squares and it has beamed ceilings. The bow and the south door are preserved and there are traces of individual windows. In the basket, there are three sound pots beneath the ceiling and a small Romanesque window behind the altar.
The porch is a late-medieval building, of raw granite and brick. Here are two Romanesque gravestones with cross rods inserted into the wall, while a third gravestone is situated as a threshold stone. The church appears whitewashed and tiled. The altarpiece is a Gothic altarpiece from about the year 1500.
When the altar is open, the God the father in the middle field appears with the cross with a bishop and St. Francis on each side. In the doors, are 12 figures depicting apostles.
At Easter time, when the closet is closed, two fields appear. The left one shows the Jesus child in the stable, the other shows the burial.
At the altarpiece, there is a leprosy hole, through which the lepers could receive the sacrament as they did not have to enter the church.
The pulpit is now painted blue after painted images could not be restored. It dates from 1580. The baptismal font is a very simple granite font with a rope twist at the top.
A smaller cupboard, formerly on top of the altarpiece, has two figures, Skt. Jørgen and Skt. Katarina.
At the top of the west end, is the church bell, which dates from the 1300s.
The key can be borrowed by contacting the sexton.