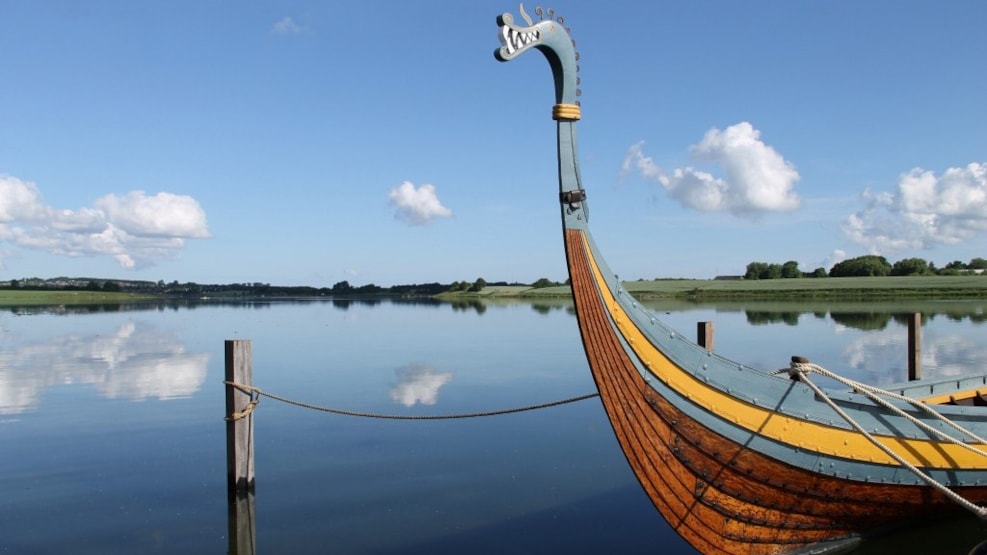 The Vikingmuseum Ladby
Visit Denmark's only ship grave from the Viking Age.
By Kerteminde Fjord, you can visit Vikingemuseet Ladby, Denmark´s only ship grave from the Viking Age – an attraction of international renown. Ladbyskibet is displayed in a rebuilt burial mound at the site where it was found in 1935.
Throughout the summer, you can experience the reconstructed Viking ship, Ladbydragen, lying and rocking in the fjord below the burial mound. Exactly where the original ship was pulled ashore more than 1,000 years ago. It is an exact copy of the ship under the burial mound and is 21.5 meters long and 3 meters wide and can fit 32 rowers.
History of Ladby skibet.
Archaeological research has established that the Viking Ship was towed ashore around the year 925 AD, for the King of Ladby to be buried in. The ship was 21.5 meters long and 3 meters wide and a burial mound was raised above the ship. Along with him, the grave also included all his fine possessions, 11 horses and 3 or 4 dogs. In the bow of the ship lies the original anchor and chain.
Unfortunately, the grave was plundered back in the Viking ages, so the deceased King was removed and most of the expensive goods destroyed. However, some of the grave goods survived and can be seen in the exhibition building.
Inside the burial mound, you can see the imprint of the ship, the approximately 2000 rivets that held its planks together and the shroud rings for the rigging of the mast. The stem is decorated with the "dragon´s mane", in the form of iron curls. (The originals are on display in the exhibition building.)
Activity at the museum
A museum is more than objects behind glass. A lot is going on.
In the summer there are different activities for the children and adults, and you are more than welcome to visit the museum shop. There is also the possibility of enjoying a cup of coffee and some ice cream, or you can bring your own lunch and enjoy it in the beautiful surroundings of Ladby Skibet.
At regular intervals, there are special exhibitions about, or in relation to the Viking Age.
Access conditions and accessibility
Both the museum and the burial mound is handicapped accessible, with ramps, no doorsteps and the museum have elevator access.
As you park in front of the museum building, you have to walk appr. 300 meters to the burial mound. This trip is made of gravel and dirt, therefore, by nature, the paths are not 100% level. However, there are multiple benches put in during the walk, so it is possible to rest while walking towards the burial mound.
Guide dogs are more than welcome.
*The museum has one wheelchair available, that can be borrowed.