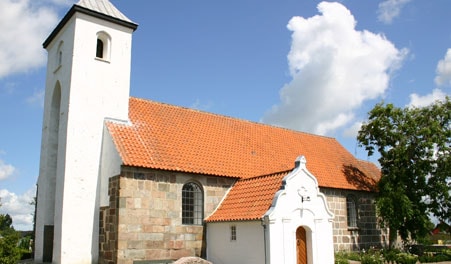 Vilsted Church
Even at a distance you see the characteristic tower of the church of Vilsted and its beautiful Rococo porch.

When you are inside, the pulpit distinguishes itself having carved heads of Angels, Men and Devils. The crucifix about the altar dates back to about the year 1475.

On the northern wall is a painting, made by A. Dorf, showing Jesus in Gethsemane, and there is an epitaph in the style of French Empire.

Outside the porch and in the brickwall of the belfry are tombstones, which in earlier times were placed in the floor of the church. In the southern wall you see two ashlars, both with a chessboard.

Outside the cemetary, west of the main entrance, a medieval thingstead is marked.

General opening hours: You are welcome to contact the sexton.