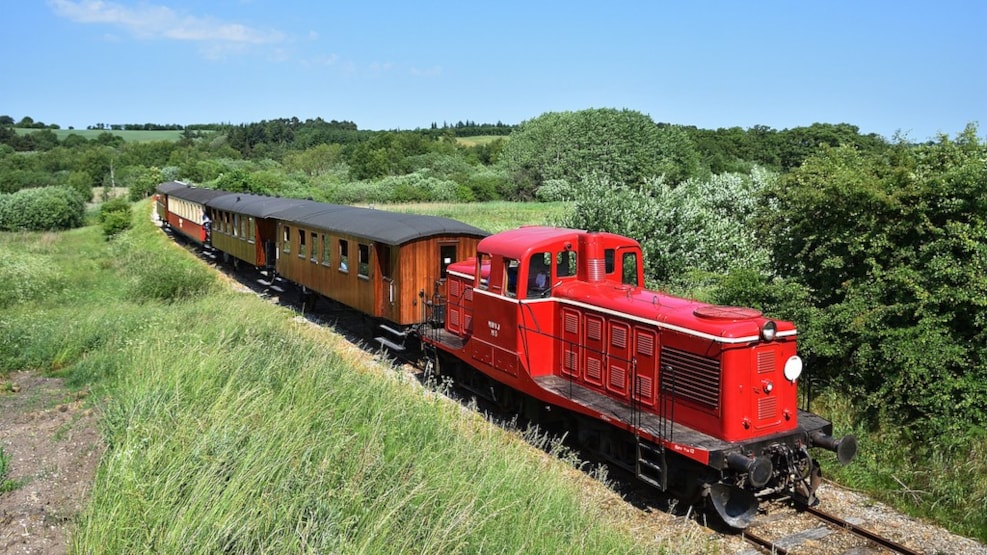 The Vintage Railway (Mariager - Handest Veteranjernbane)
The veteran train takes you back 100 years in time
Get on board the almost 100 year old Veteran Train and travel back to the time period when your grandparents were young.
The guard blows the whistle and the journey begins. Travel 17 kilometers through some of the most beautiful parts of Denmark - fjords, old market towns, beech forest, rolling hills, moors and rivers. With a speed of only 30 kilometers per hour, your soul will not get left behind.
The trip with the old Veteran Train back and forth between Mariager and Handest takes 45 minutes each way, and there is plenty to see during your journey. From the passenger car's open end platforms, you can enjoy both the view and the coal smoke that escapes from the old locomotive through the scenic landscape south of Mariager Fjord. A trip with the vintage railway is pure nostalgia and relaxation.
You are, of course, very welcome to bring a food basket and afternoon coffee in the vintage train and enjoy the refreshments along the way. It will make the trip even more enjoyable, and it tastes twice as good in the old historic passenger cars.
_____________________________________________________
Time schedule 2023:
JUNE: Each Sunday
JULI: Every Tuesday, Thursday and Sunday
AUGUST: Tuesday 1/8 and Thursday 3/8 + and every Sunday.
OKTOBER 2023: Sundays 15/10 + 22/10 and Tuesday 17/10 and Thursday 19/10
See timetable and events on www.mhvj.dk
_____________________________________________________
Come join us - we need you
Do you dream of becoming a driver or a station master? So come and join us! We are passionate about running vintage trains. Want to join a community of fun and challenges? Just sign up! Train operation is extensive and multifaceted. There are trains to run, equipment to be maintained and various administrative tasks to be solved. There is plenty to be done. You will experience the same joy as the enthusiastic train travelers when you contribute to a unique experience in a cultural and historical railway environment.
Look us over, if you have questions ask at the office or speak with one of the train staff. Use the contact information on www.mhvj.dk or write to us. We look forward to welcoming you!