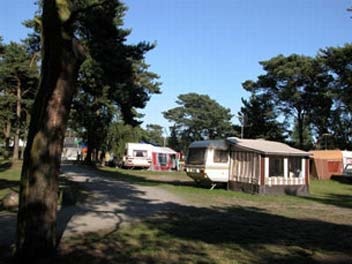 Balka Strand Familiecamping
After a brief walk through the pines, you discover the most child-friendly beach on Bornholm with beautiful white sand and azure water. Most people think such fine, white sand is only found on tropical islands in the Pacific! And here the soft, pleasant sandy bottom stretches far out into the sea.

Our well-appointed campsite is especially child-friendly with playgrounds, 2 bouncy cushions, moon cars, 2 petanque courts, an outdoor football game – and table tennis, a campfire area and a fenced-in playing field. We offer activities for children and families, such as baking twistbread round an open fire, excursions to interesting spots on the island, baking, face painting, moon car races, a jewellery-making workshop, juggling and similar performing arts, drawing and painting workshop, an evening of films and 'goodies' and much more besides – please see our Calendar of Activities.

Dogs are welcome at our campsite.

The main building features a family bathroom, baby-changing room, lavatory/toilet for disabled people, TV lounge with TDC Hot Spot and DVD film rental, a kitchen, laundry and tumble-dryer room, and two large WC blocks with bathing sections. The main building is also the location of our shop and reception desk. We also have a large barbecue area with a covered barbecue grill and patio, and outdoor kitchens – one where it is possible to prepare and clean fish freshly caught from the Baltic!

We rent chalets with bath and toilet, as well as ultra-modern caravans complete with awning and space to sleep 5.

It is advisable to book your campsite lot and ferry tickets well in advance.

Here are some excerpts from our visitors' book: "Very lovely campsite, great for kids, you are always smiling and helpful, good activities for children and adults, wonderful to feel welcome, an attentive campsite host and hostess – even when things get busy. Personal, competent service, and the sanitary conditions are excellent. We'll be sure to return!"

We look forward to hearing from you and look forward to welcoming you to FDM Camping Balka Strand.