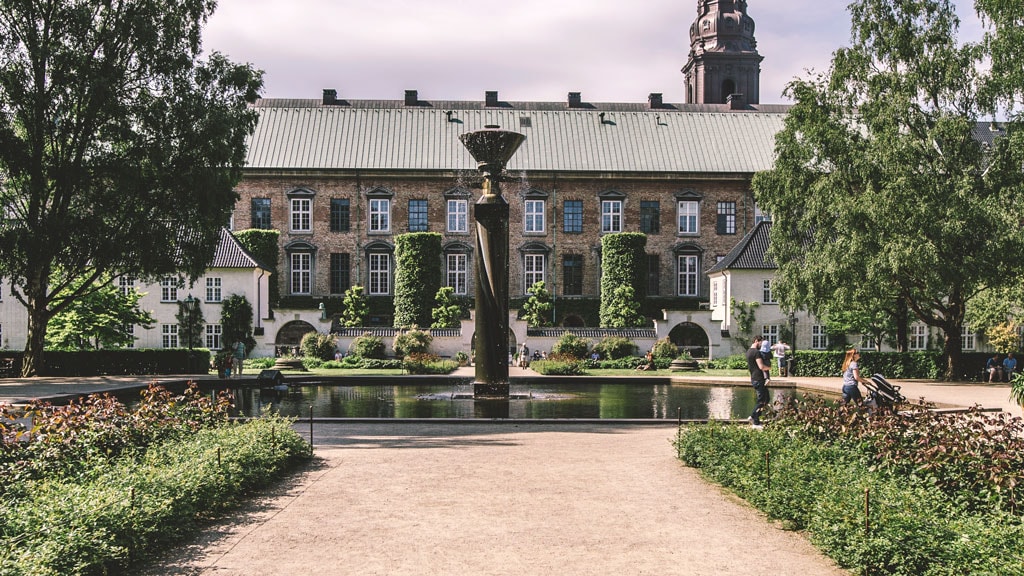 The Garden of The Royal Library
The Royal Library Gardens are located on Slotsholmen - between Christiansborg Palace (Parliament) and the Royal Library. The garden constitutes a small oasis in the heart of the city. 
Today, it is the site of blossoming beds of flowers and large shadowy trees. The water sculpture in the middle of the central pool spouts out cascades of water every hour on the hour. 
History

The gardens were designed in 1920 by landscape gardener Jens Peder Andersen and castle architect Thorvald Jørgensen. They were built on top of Christian IV's old naval port, Tøjhushavnen.

As a reminder of its maritime past, a small pond has been retained in the middle of the gardens and an old mooring ring of the type used by ships in the 17th and 18th centuries has been built into the masonry at the end of the gardens.
Statues and Sculptures

A 1918 bronze statue of Søren Kierkegaard by the sculptor Louis Hasselriis is found in the middle of the gardens. 
The Water Sculpture

The water sculpture in the garden is an eight-meter-high copper column that rises from the middle of the garden pool and operates as a fountain. Water shoots up every hour on the hour. It was designed by sculptor Mogens Møller as a monument to the written word.