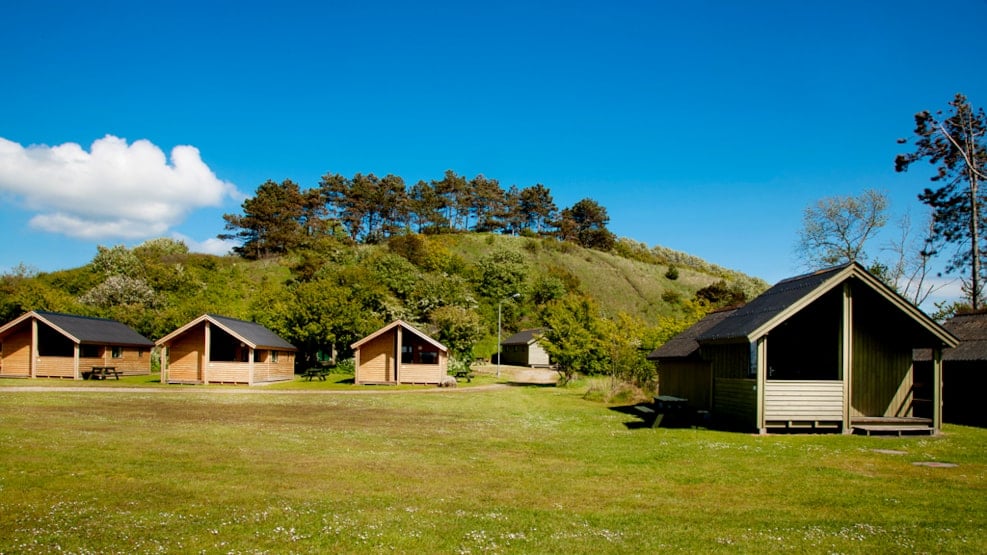 Sælvigbugtens Camping - Hytter
If you are looking for comfort, we now have 20 new, modern and beautifully furnished rentable cabins centrally located on the campsite. Most cabins have their own bathroom.
The cabins accommodate 6 guests and have 2 separate bedrooms, one living room, one kitchen area and a covered terrace.
Type A has a bunk bed in each bed room and room for two extra guests on a sofa bed in the living room.
Type B and Type C have a king-sized bed in one bedroom, two single-sized beds in the second bedroom and room for two extra guests on a sofa bed in the living room.
All the cabins have a kitchen area with hotplates (Type C has a stove), a refrigerator, a coffee maker, a kettle, pots, pans, crockery for 6 persons, etc.
All cabins have duvets and pillows but you need to bring your own bed linen and bath towel or rent these on the campsite. Don't forget to also bring your own towels, dishcloths, etc.
Groups and Parties
When outside the peak season, Sælvigbugtens Camping's big ballroom and modern industrial kitchen can be used for family reunions, company parties, courses or school trips. It is also possible to have your event catered. The camp directors are available to help plan your event and get help from the other associations on the island. Call us and we can have a chat.
Prices 2022
Type A 610 DKK per night / 4,500 DKK per week
Type B 785 DKK per night / 5,665 DKK per week
Type C 820 DKK per night / 5,940 DKK per week
The price for electricity is 4.00 DKK per kW
During peak season (weeks 28 – 31), the cabins are only available for rent by the week (Sunday to Sunday).