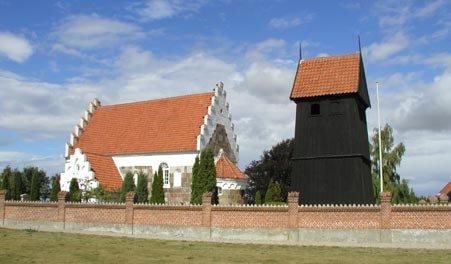 Søllested Kirke
Søllested Church is a polled Romanesque church constructed with granite squares. The eastern gable gives a clear picture of the Romanesque and the Gothic roof heightening and the bell frame dating from the middleage can be seen in the churchyard.

In connection with the interior painting of the spring of 1993, a box of new dates were removed from the altar table, exposing the old middleage altar. There is also a hollow space on the plate, a relic hiding place where during the Catholic time, a holy relic was preserved. The altar table is now covered with a see-through glass plate, giving the opportunity to see the old altar table.

The Wilhjelm presented the altarpiece, which can be seen on the northern wall of the church, from Øllingsgård in the Department of Justice. H. Raadsing painted it.

The engraver is available everyday except on Mondays.