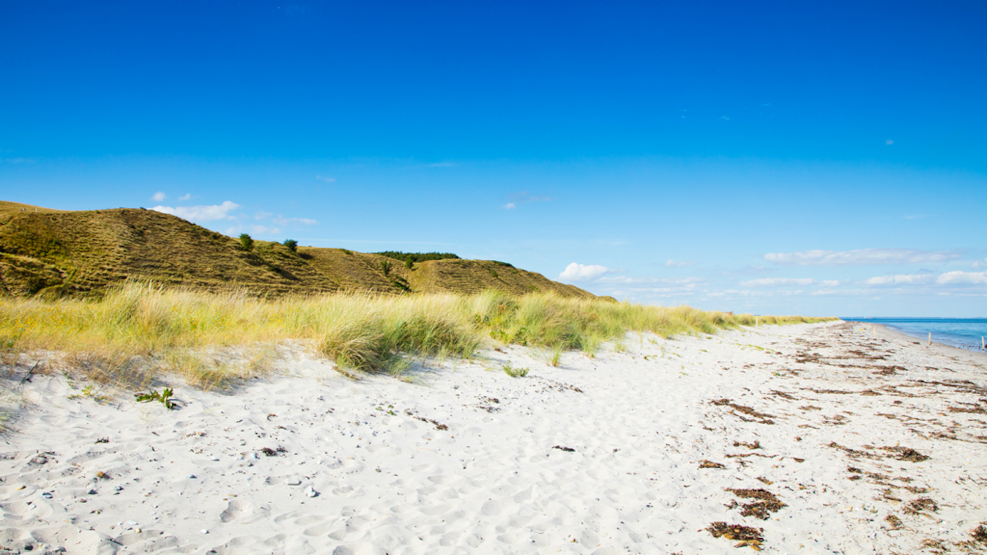 Close to nature, Samsø
In the beautiful nature reserve by Stavns Fjord lies Samsø Nature School ('Samsø Naturskole'), which has provided information and knowledge about Samsø's nature for more than 30 years.
Living side by side with nature
You do not have to walk far from the white buildings of the Nature School, before nature reveals itself in all its glory. Here, by the environmentally protected fjord, there are expansive salt marshes, beach meadows, a heath, the fjord coastline and sea coastline and biodiverse plant and animal populations.
"For that reason, many of our activities are happening right here in this area, where we have access to everything that grows and lives above and below sea level. 'Crab fishing in Lillehavet 'The little sea', for example, is one of our very popular family activities, taking place in the shallow waters towards Lilleør. And when we organise 'Schnapps trips' (searching for Schnapps-making ingredients), we find several different herbs, flowers and fruits in just a short stroll," explains Bjarne Manstrup, head of the Samsø Municipality Nature Department, to which the Nature School belongs.
The Nature School itself offers good indoor facilities for disseminating knowledge about Samsø's natural environment. Bjarne explains: "We have a teaching room and a laboratory, a large collection of stuffed birds, a great deal of 'field equipment' and tools for fine stone work. We use the equipment when schools and other groups visit as well as for other events, where, among other things, we make jewellery out of cows' horns, build bird cages or dissect a pheasant.
Awakening curiosity
Throughout the summer, crabbing from the jetty is on offer from the Nature School's maritime branch, 'Landkrabben', located in a red shed in Ballen Harbour as well as special days, where one can learn about stones, fossils and the "magic black sands".
The activities at both 'Landkrabben' and the Nature School are either free to participate in or only cost a little to cover materials. "The important thing is to give people a good experience and awaken their curiosity to discover nature on their own afterwards," explains Bjarne.
When the people working at the Nature School are not sharing their knowledge with holidaymakers, they undertake a host of other tasks including maintaining the natural landscape through the use of the idiosyncratic Gutefår (an ancient breed of sheep), maintaining the hiking trails and so forth. "Also, anyone is welcome to contact us to book an eventful day in nature. It could be anything from a group of girlfriends that wishes to collect and polish stones to a business spending hours learning how to forage and enjoy tasting the things nature can provide," explains Bjarne.
---
Samsø Naturskole
• Samsø Naturskole was established in 1986 in the former smallholding "Grønhovedhus".
• Samsø Nature School belongs to Samsø Municipality's Nature Department, which is also responsible for the care of natural areas and ancient sites, the maintenance of trails, municipal streams, etc.
• Public events are usually free and registration is not required.
• Special events for groups of up to 30 people cost DKK 300 per hour within normal working hours and DKK 500 per hour in evenings and weekends. The price usually covers one nature guide as well as a classroom, field equipment, boats and more.
• You can see all the Nature School's public events on VisitSamsø's event calendar and by visiting www.samsonaturskole.dk