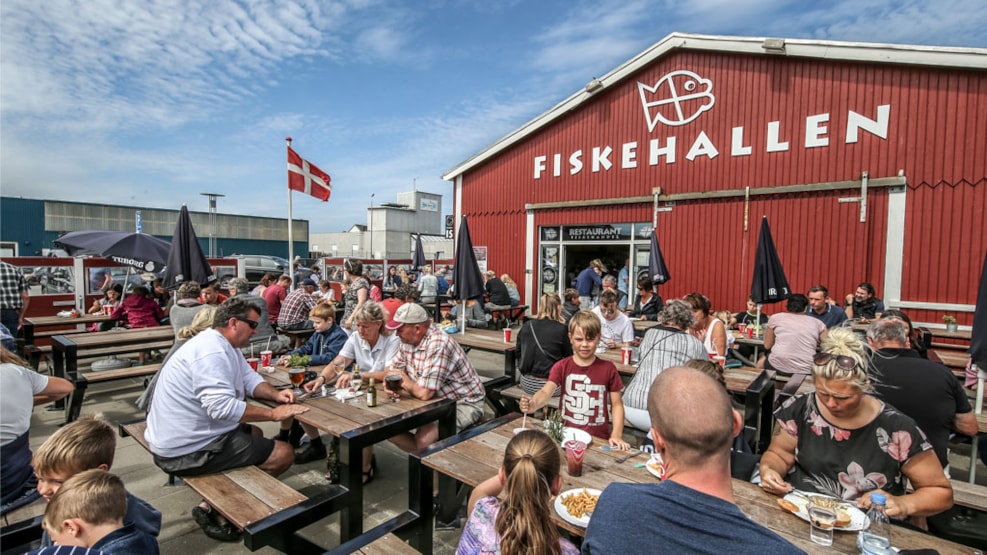 Fiskehallen - Restaurant
On the quayside in Thyborøn harbor you can enjoy in the Fish Hall a delicious fish menu with a fantastic view of the rocking boats and the throng of guests at the harbor.
The fish is purchased every morning at West Jutland fish auctions and prepared in the Fish Hall's own small fillet factory.
Finish your meal with a homemade ice cream according to Italian recipe.
Also, remember to look in the Fiskehall store and buy fresh or smoked fish and other delicacies at home.
Eating place & fishmonger's


Visit Fiskehallen's restaurant on the 1st floor, which has a beautiful view of Thyborøn harbor or enjoy the food outdoors in the square in front of the restaurant - directly on the quayside.
On the menu there are many different, exciting fish dishes as well as some meat dishes and special children's menus - all at family-friendly prices. The fish comes directly from the big fish auctions: among other things plaice, sole and saithe from the North Sea.
Please note that the kitchen closes half an hour before the normal closing time.
Enjoy a homemade ice cream from Danish organic milk according to an Italian recipe from Æ Is-Kiosk.
Live music and fish buffet
In summer, there is live music and a fish buffet in Havneknejpen, which is located in the same building.