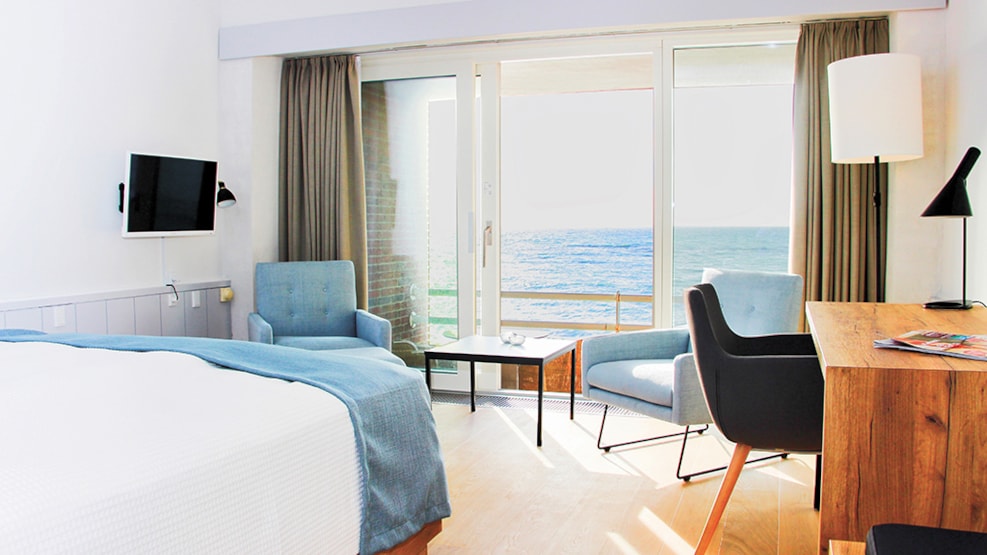 Griffen Spa Hotel
Griffen Spa & Wellness
An adventure is waiting for you
In the world of fairytales the fabulous griffin guards the valuable treasures. The Griffen Spa Hotel therefore is an appropriate name for the lovely hotel sited in the first row to Rønnes marina.
In 2017 the hotel has been completely renovated. The arrangement of the hotel has been designed by Pernille Bülow, who is also famous for her glass works and jewelry designs. Look forward to the attractive rooms where you can select a room at the side turning to the city or a room with a fantastic sea view. The rooms are at the floor ground, the first floor or second floor. There is a lift to the first and the second floor.
Let yourself be spoiled in the spa
As a guest in the Griffen Spa Hotel you have free entry to one of the most impressive spa areas in the North: The Bornholm Diamant Spa placed in the lower floor of the hotel. From the earliest times mankind has been created to handle hard frost as well as tropical heat. In the Diamant Spa you shall try both! Having warm steam and ice-cold water by turns, your immune defence will be stronger and your circulation will love being set to work. In the Kneipp pools the water changes between 0 degrees Celsius and tropical heat. Or try to massage the body with ice from the ice fountain. The ice fountain drips fresh ice into the millions of years old granite basin. A wonderful experience! Notice that the guests have to be at least 16 years old to have admission to the spa.
Perfectly sited near the sea and the Centre
The Griffen Spa Hotel is located at the Rønne marina – close to the old part of Rønne and to the Market at the city square where there is a lot of life. 200 meters from the hotel you will find the little, but cosy beach, Nørrekås, where the possibilities for swimming are great. Without a doubt, The Griffen Spa Hotel is one of the best located Hotels.