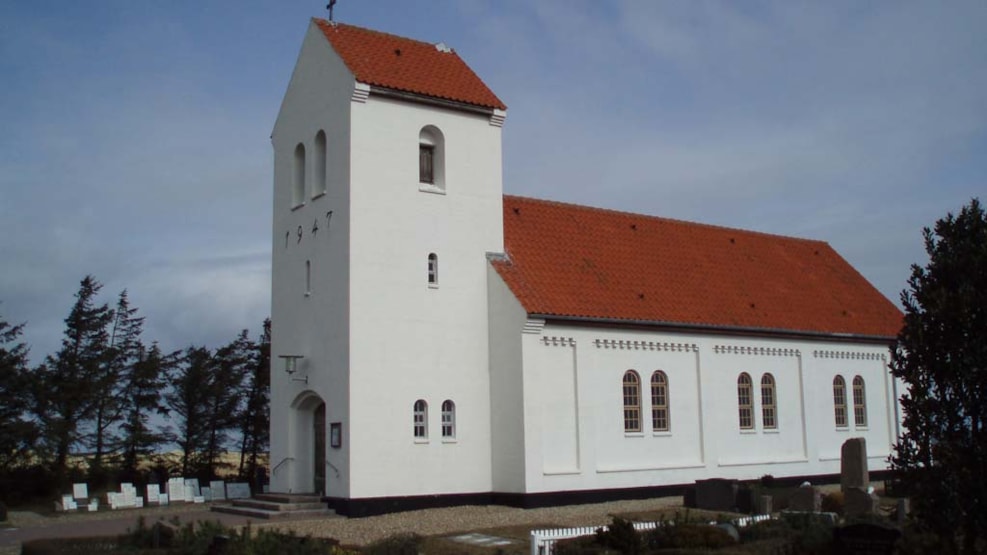 Haurvig Church
A few kilometers south of Hvide Sande you will find Haurvig Church, which is beautifully situated on a low dune bank towards Ringkøbing Fjord. The church was originally built as a chapel in 1869, and in 1947 a tower was built. It is beautifully and stylishly decorated, and has a completely unique atmosphere.
Haurvig Church was originally built as a chapel in 1869. The church is located alone, and beautifully on a low dune bank facing Ringkøbing Fjord.
The church is whitewashed and has a red tile roof. The church tower was built in 1947, when the interior of the church was restored at the same time. The church has a completely unique atmosphere, as the pulpit is reminiscent of the wheelhouse of one of the old fishing boats.
Inside, the church is very stylish and beautiful, and kept in light gray and blue colors. According to the inscriptions, the altarpiece belonged to the Bornholm Regiment Corps, and dates from 1726. In addition, two church ships have been hung in the church, as well as a wooden mast without a name and a wooden mast called Freia.
In the church's cemetery there are graves with stones over soldiers from the Allied forces who had fallen during the war in 1939-1945. In addition, there is also the tombstone in connection with shipwreck.
Find more information about the church on Haurvig Church's website.