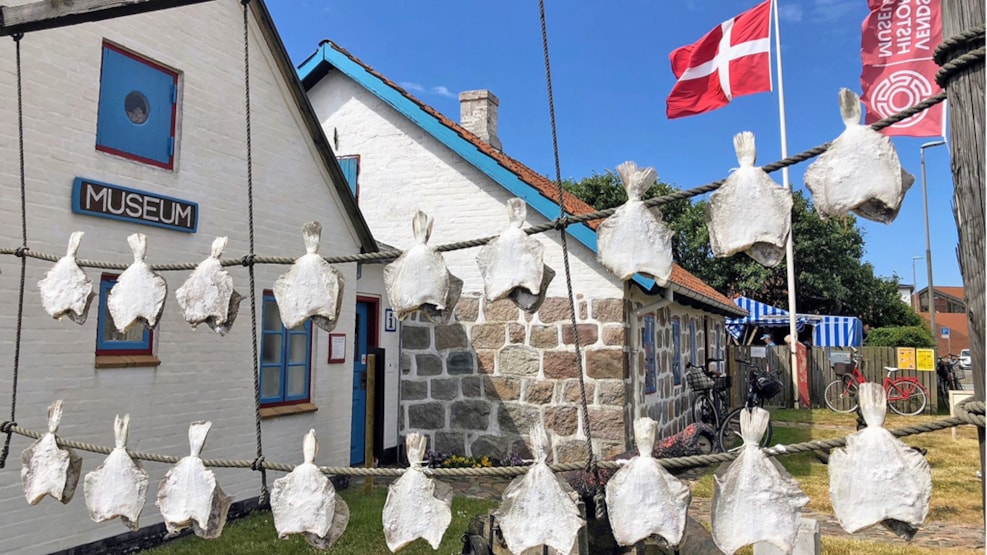 Hirtshals Museum (regional museum)
The museum is housed in an old fisherman's home and shows the city's history. Learn more about the history of the "bjesk", and about the "bjesk" queen Signe Hansen. In the summer, old fishermen display maritime crafts.
Hirtshals Museum is situated in an old fisherman's house built in 1880. The Museum is a part of Vensyssel Historiske Museum and has a permanent exhibition on Hirtshals' history as well as Hirtshals Habor's history. Hirtshals Museum covers also an exhibition about the local beverage "Bjesk", and tells the story of medical herbs suitable for spicing up snaps.
The exhibition "Hirtshals by the sea"
show the history and development of Hirtshals. Seven topics illustrate the history, the habor construction, the importance of the ferries, the strandings and rescues, the fishing and activities at the habor. The building itself illustrate a fishermans's life year 1915.
Bitter and Signe Hansen
People in North Jutland are known for their bitters, and Signe Hansen is well known for in Hirtshals for the same reason. She was an old nurse, who as widespread the bitter's excellent attributes. Bring a bottle of Brøndum Snaps to the museum and have it turned into a lovely bitter from local herbs.
The museums garden
In July the museums garden will hum of activities. Fishermen will show how to bind seine and trawls and there will be tastings of fish dishes.