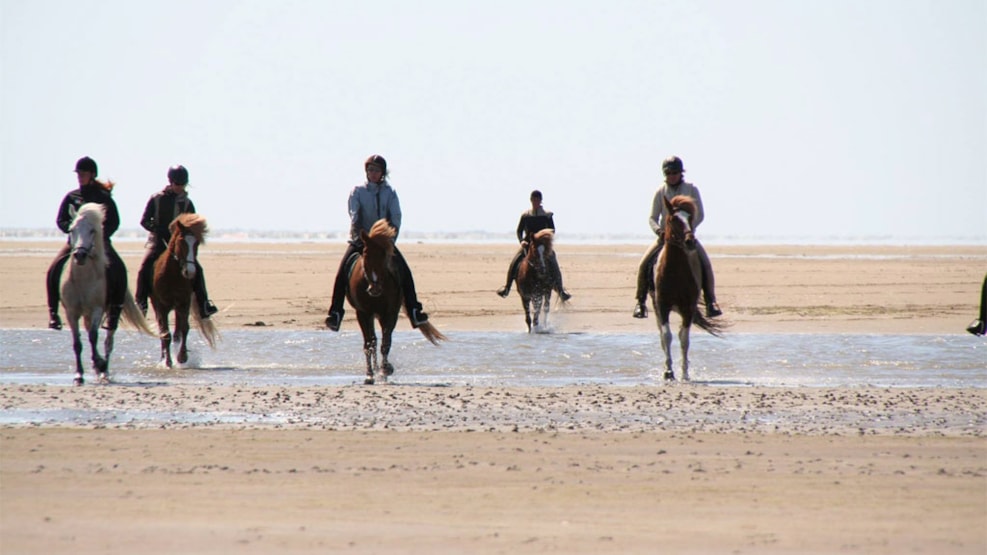 Hotel Kommandørgården - Rømø - Icelandic Horses Center
In connection with Hotel Kommandørgarden lies Kommandørgårdens Islandic Horse Center with 35 islandic horses.

The center is situated outdoors and we are open all year round. We have horses for well rehearsed riders as well as for beginners. Our horses are very kindly and willing - otherwise they wouldn´t be here.

We chose the islandic horse, which also was ridden by the Wikings for over 1000 years ago, because it has two extra paces - tölt and pass. Specially tölt is very popular because you can sit very calm in the saddle even when you are riding fast. We are riding in the woods or on the beach and offer rides on the two Wadden Sea islands Rømø and Mandø as well as on the big sand bank Koresand.

You can participate in one of our guided rides on one of our horses or you can bring your own horse - we have pasture and stables. We offer also rides in a carriage through Rømø´s beautiful moorland, drawn by our shirehorse Nathalie.