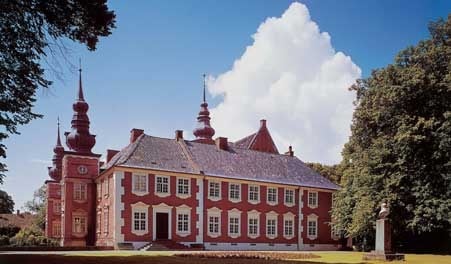 Jægerspris Slot
King Frederik VII acquired Jægerspris Slot on April 21, 1854 on his wife, Louise Danner's birthday.
The couple immediately made a major renovation of the castle, and the fashion and style conscious countess decorated the dwelling according to the taste of time.
In 1866, three years after the king's death, Countess Danner opened parts of the castle to the public.
Here everything should have "place in the same place where they care to depend". Countess Danner wanted the living rooms to stand as an eternal memory for posterity about the beloved king.
In the museum you can see the memorial rooms with the audience's silk wallpaper and beautiful stucco ceiling, reliefs of Thorvaldsen, the king's work room with the impressive pipe collection and the large oil painting of Countess Danner in the wedding dress painted in 1850 by David Monies.
In addition, you can see the tower room with the old golden leather tapestries and the king's fishing rod, the newsroom with the king's magnificent weapons collection and many of the precious things that the king had inherited from his ancestors, as well as the corridor with the royal hunting trophies and paintings of the Oldenborg kings.
King Frederik VII's working room
The memorial rooms at Jægerspris Castle are thus the only place in Denmark where the 1850's interior decoration can be experienced in a unified whole.
Countess Danner decided in her will that her cabinet should be left untouched after her death. The living room with the beautiful yellow silk-covered furniture with the county's monogram was opened to the public in 1874. In an adjoining room is told about Louise Danner's many journeys.
For the benefit of poor and surviving girls
The story of the orphanage is a story about Countess Danner's wish that Jægerspris Castle and goods after her death should be a foundation for "benefit to poor and surviving girls".
Already in the early 1900s, the Foundation was one of the country's largest children's institutions, and is also home to many children today.
The exhibition tells how the children lived and lived in the children's home departments around the Palace in the 1920s, 30s, and 40s, and here is shown how this large private orphanage has had an impact on child care in Denmark.