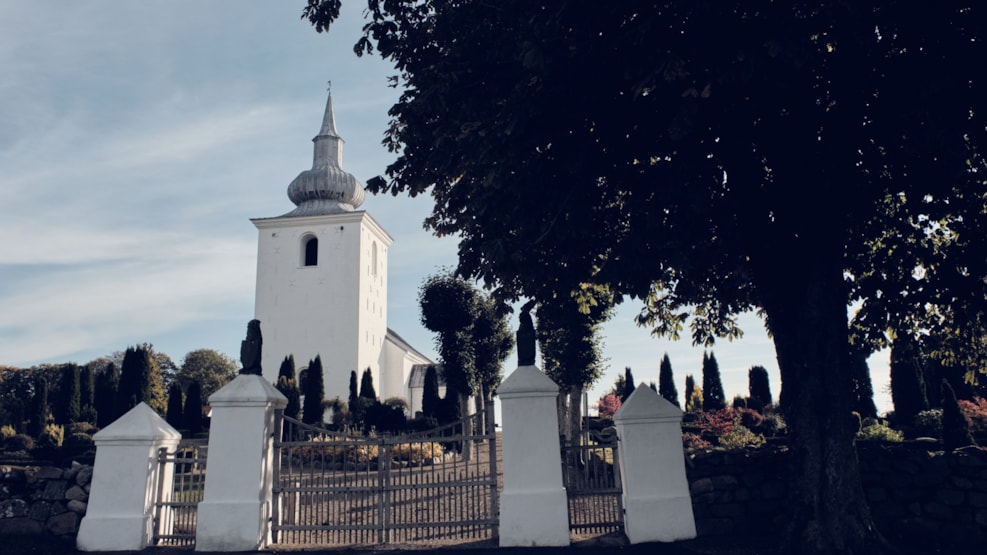 Nørup Church
As most Danish town churches, Nørup Church was built in the Roman times.  As a result of later alterations and extensions, the church is today rather unique, both on the outside and in particular on the inside with its well-preserved baroque furniture.  
The church served the nearby Engelsholm Castle from 1586 to 1935. Engelsholm has been owned by several well-known aristocratic families, of which four have left their mark on the church, in particular Gerhard de Lichtenberg.
The church was constructed in the eleventh century and comprises a Romanesque nave and chancel as well as a Late Gothic tower. A chapel from 1621 is found on the north side. Knud Brahe and Margrethe Lange are buried in the crypt beneath the chapel, which Margrethe Lange commissioned in 1621.   
In the 1720s, Frederik Danneskjold Samsøe donated an organ to the church, which was rather unusual for a village church at that time.  
De Lichtenstein added the characteristic onion-shaped domes to the church and castle in the 1730s. Most of the interior church fittings were replaced with Baroque art and furnishing and the church was emblazoned with the de Lichtenberg family coat of arms.  

Of particular interest are the family pews, the pulpit, the baptismal font and the altarpiece, which are richly decorated with paintings and carvings.  

The churchyard has several sepulchral monuments over former owners of Engelsholm.