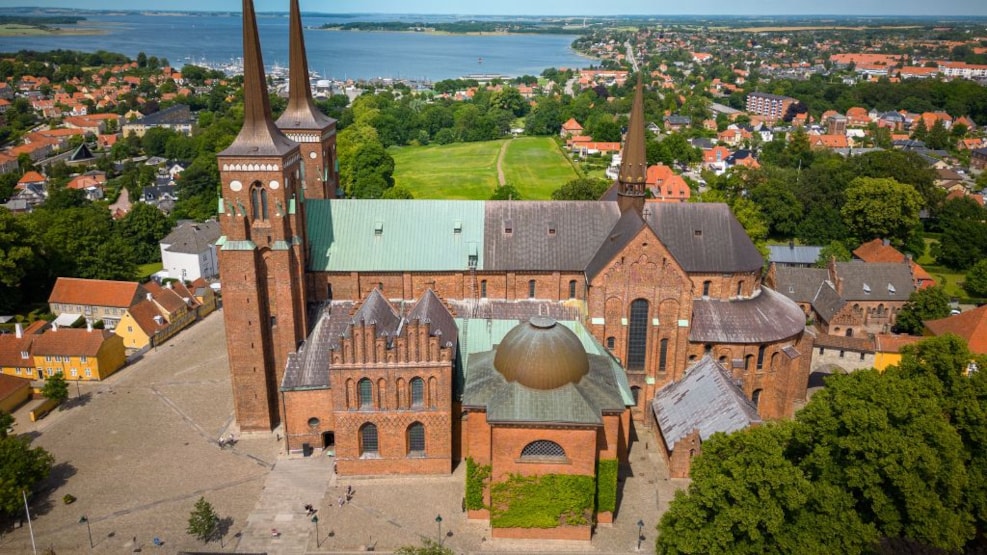 Roskilde Cathedral – UNESCO World Heritage
Roskilde Cathedral is inscribed on the UNESCO world heritage list. Roskilde cathedral can be reached by train from Copenhagen Central Train Station in just 30 min. 
Join us on a royal journey through time in Roskilde Cathedral
The history of the monarchy is a gold mine of dramatic Danish history, of bloody battles, epidemics, high treason, jealousy drama and conspiracies, but also love. Meet 40 kings and queens in Denmark's royal burial church, hear the dragon screech, dive into dark crypts and find peace under the high vaults. The cathedral's architecture is a time travel through 800 years, and that has put it on UNESCO's World Heritage List. Chalk paintings, royal tombs, art and architecture tell the history of the kings, the church and Denmark.
See a model of the tombstone in which Queen Margrethe II will be buried. The tombstone was designed by the renowned Danish artist Bjørn Nørgaard and is exhibited in Sankt Birgitte's Chapel.
Groups can book a guided tour of Roskilde Cathedral all year round.