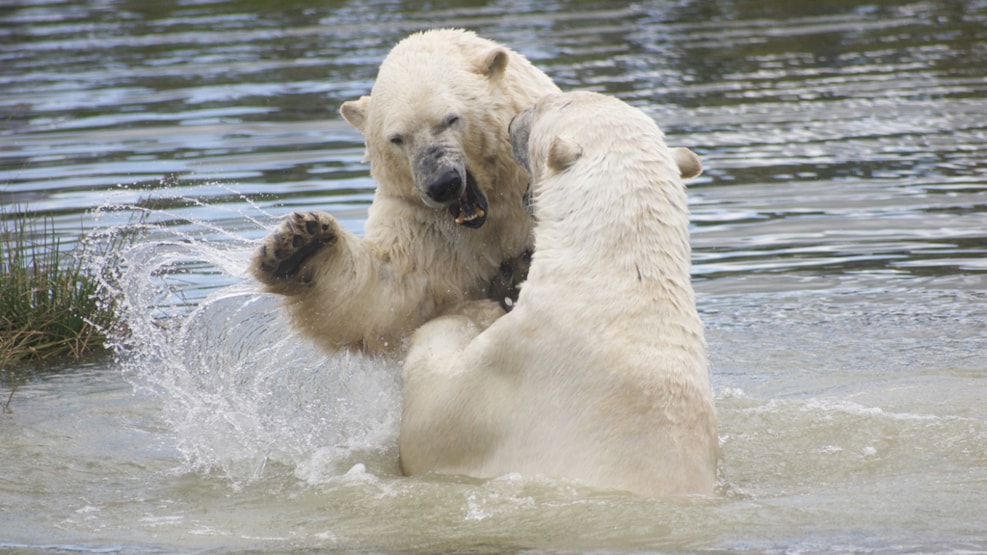 Skandinavisk Dyrepark - Scandinavian Wildlife Park
Scandinavian Wildlife Park on Djursland is probably Denmark's most natural animal park, with lots of space for both animals and people.
Skandinavisk Dyrepark is closed for the winter, but will open again in April, 2024.
Meet the polar bears
Visit the curious polar bear cubs in their own facility and watch how they play and explore the world with their mother. In the large polar bear park, you will also meet the four giant adult males. You will be amazed when watching about 2 tons of polar bear splashing with water - just beneath your feet.
In addition to the polar bears, you can also experience brown bears, sea eagles and wolves as well as many other Nordic animals in large and natural enclosures.
The park's guides are always ready with fascinating stories from the world of animals.
Predator feedings and sea eagle show
Watch the guides feed the predators and experience their exciting stories from the world of animals. Be captivated by the majestic Steller's sea eagles during the beautiful eagle show.
On the Nature trail you can be inspired to create a more nature-friendly garden, where a richer wildlife can give you wilder experiences - even from the comfort of your own home!
An abundance of activities
In the middle of the park, you can explore skulls, pelts, bones and antlers from many different animals. Finally, do not miss the opportunity to feed the goats and fallow deer, and try the exciting challenges on the huge playground.
Lunch time or time for a snack?
Visit the cozy Loghouse Café and taste the delicious dishes inspired by "the wild cuisine". The menu offers tasty specialties, healthy salads, delicious barbecue menus and a little something for the sweet tooth.
You're welcome to bring your own picnic basket to enjoy in the many picnic areas around the park. It is also possible to borrow the grill or order different kinds of barbecue packages prior to the visit. The ice cream shops offer delicious ice cream waffles, snacks, sausages, and drinks.
Take a souvenir home with you
In the souvenir shops there is a large and beautiful selection of quality goods for every taste and budget.
See what others are sharing on Instagram