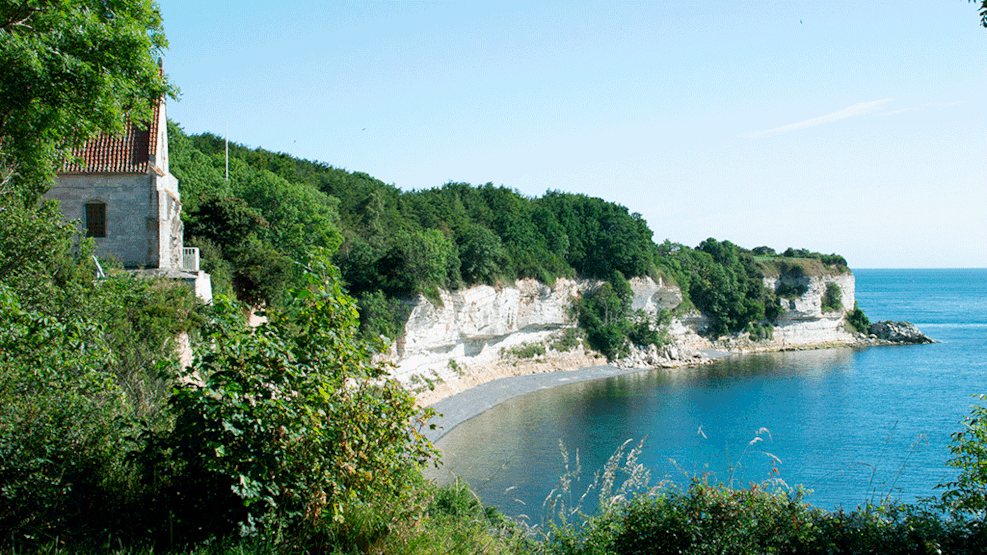 Stevns Klint
Stevns Klint part of UNESCO World heritage
Stevns Klint was inscribed on the UNESCO World Heritage List of natural properties in 2014. This is why Stevns Museum presents an exhibition on the criteria governing the selection of a World Heritage site, above all explaining why Stevns Klint is World Heritage. Also on view at the exhibition are fossils from Stevns Klint, and it is shown how man has lived with and off the cliff for centuries.
Stevns Klint is beautiful and dramatic to behold and now it's also part of UNESCO World Heritage!
On a summer day, the chalk seafloor colours the sea with amazing shades of blue, and the white cliff stands proud, topped by the green crowns of the trees. The cliff is both attractive and dramatic, and it is said that the "Cliff King", or "Klintekongen", has his summer residence in one of the caves in the cliff.
Viewed from the sea, the almost 20-kilometre-long cliff rises as a massive promontory. If you come by land, you must prepare yourself for a surprise when the flat land of Stevns is abruptly cut off by the 41-metre-high cliff. From the top of the cliff, you have an unrestricted view over the Øresund and, on clear days, to Sweden and the Øresund bridge.
Stevns Klint consists of chalk and limestone formed 65 million years ago, when the sea covered Denmark. The lower part of the cliff consists of chalk made up by microscopic algae. The chalk holds fossils from animals that lived on the seafloor - echinoids, bivalves, and many others. The upper part of the cliff is a hard limestone with marked wavy bands of flint (chert). This limestone was used in the past for building houses. The soft chalk in the lower part of the cliffs is slowly washed away by waves, whereas the hard-wearing limestone from the upper part remains, forming the characteristic anvil-like profile of the cliff. Cliff-falls occur when an overhang collapses or loose blocks fall – generally during winter or spring.
Between the chalk and the limestone is the Fish Clay – a thin layer of grey clay. The Fish Clay bears evidence of a catastrophic event that affected the entire Earth, wiping out over half the species of the time – including the dinosaurs. Massive volcanic activity was long thought of as the only cause for the big catastrophe. However, by examining the Fish Clay from Stevns Klint, scientists discovered evidence that indicated a giant meteorite hit Earth, strongly contributing to the mass extinction that can be traced across the Earth.