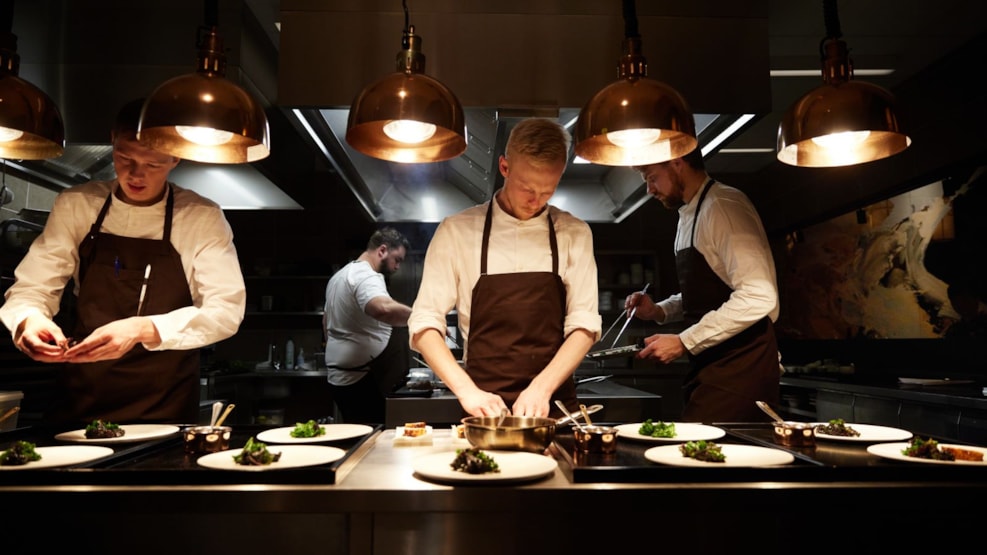 STUD!O
At Studio hospitality is taken a step further, and guests are invited right into the heart of the restaurant – the open kitchen. Here they can watch the chefs in action. The chefs enjoy playing with the guests' expectations of what they are about to taste, turning everything upside down and giving everyone a warm, intimate, and personal experience.
Curiosity, love and sustainability are the three keywords that describe the driving force behind the dining experience at STUD!O.
Michelin Guide Young Chef Award chef Christoffer Sørensen's vision sets the agenda in STUD!O's kitchen, exploring gastronomic and sustainable trends from the foraged to the fermented.
Seasonal, locally produced ingredients are the crown jewel of the kitchen, combined with inspiration from French and Asian cuisine in taste and aesthetics. The menu will always offer the finest seafood from the Nordic countries - always sustainably caught - while you often find Danish games on the menu. Therefore, the experience at STUD!O is always different, and your taste buds will be repeatedly surprised and spoiled.
STUD!O has reopened in sophisticated and exciting premises on Ottilia Jacobsens Plads in Carlsberg city. On the back wall, artist Frederik Lassen adorns Hesseldahl's dynamic wave, which embraces the premises with character and atmosphere that is stylish, warm and modern at the same time.
STUD!O is a workshop of passion with an inquisitive, curious and playful cuisine, challenging the dogmas in the Nordic kitchen tradition. Torsten Vildgaard, STUD!O's initial Head Chef was a significant part of that and a driving force at noma's test kitchen for 8 years from 2005-2012.
A part of LOCA Restaurants
STUDIO is a part of LOCA Restaurants which include the restaurants Mission Green, Almanak i Operaen, and RADIO. The purpose of LOCA Restaurants is to create restaurants that truly emphasise sustainability – both when it comes to products and people.