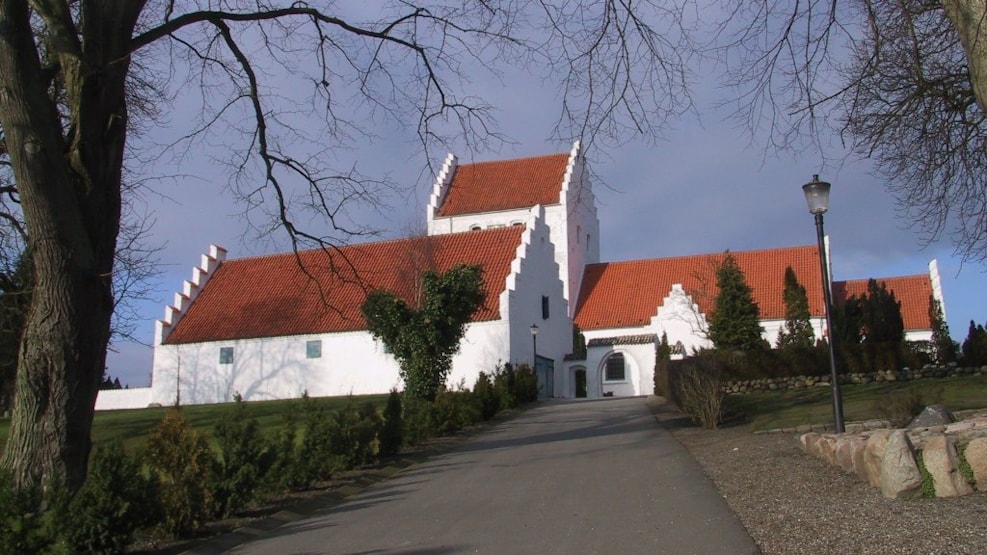 Tranebjerg Kirke
This beautiful old white church with its sizeable tower dating as far back as the Middle Ages is located on top of the Tranebjerg hill in the northern outskirts of the parish. In the beginning of Valdemar the Great's reign (1157-1182), a castle for "Capstrum Samsø" (a defensive structure with a tower) was built around 400 metres south west of the current church. At the same time, an older wooden church/chapel where the chancel is now, was replaced by one built with large bricks: thereby giving it the honour of being Samsø's oldest stone church.
The building of the nave and chancel started at the end of the 14th century, along with a small tower that was replaced in the middle of the 16th century by the taller one that stands today.  It was also during this time that the original beamed ceiling was replaced with vaults. Today the church is 39 metres long.
In the churchyard there is a memorial park for the ten British soldiers who lost their lives from air fighting over the island during WW2.
The large barn near the church was built in the late Middle Ages and was used to store the grain that farmers were forced to pay as taxes. The barn was later used to store ammunition during the English Wars in 1800-1814 and for storing illegal weapons during WW2.
The tower, which is considered to be the largest village church tower in Denmark at 28 metres high, has an area of 12 x 10 metres and two-metre thick walls. The tower is believed to have been built for long stays during potential attacks from outsiders. Each side of the tower has small round arched openings with edges, machicolations and arrow slits.
The church has two bells. The small one weighing 450 kg was made in 1391 and is the oldest church bell on the whole of Samsø. The large bell weighs almost two tonnes with a diameter of 128 cm. This one was so heavy that four men were needed to ring it until a better suspension of the bell was engineered in 1880.
The church has several interesting frescoes from the 14th century plus an octagram (8-pointed star) close to the tower door. Perhaps this is a secret monogram, linked to the Book of Revelation that talks of Christ as the "bright morning star", ie. the most powerful one that has world domination.