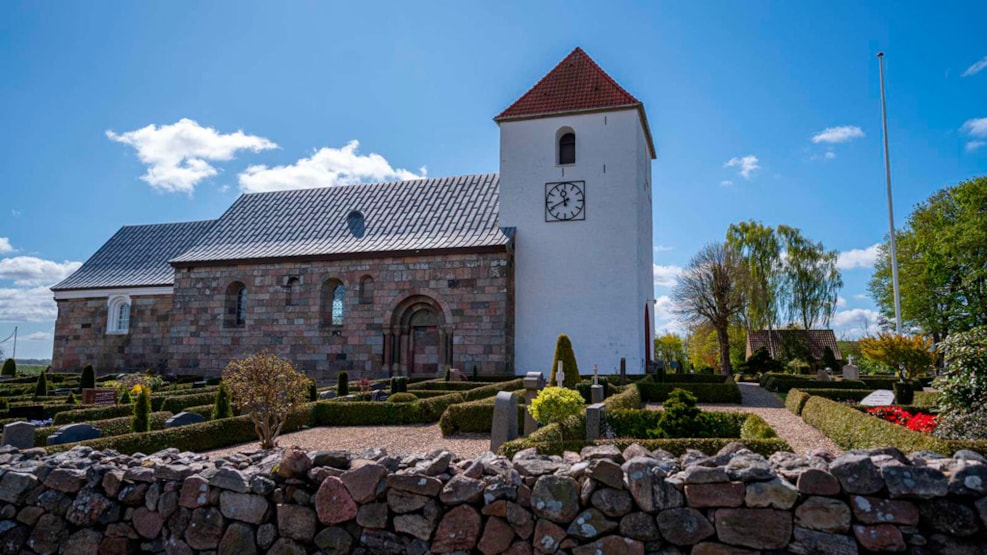 Vinderslev Church
Vinderslev church is a medieval church with beautiful, well-preserved frescoes. The late Gothic paintings were all whitewashed over in c. 1550.
The church 
Inside the church itself, you will find medieval artwork from c. 1500, depicting biblical figures, the devil and savages. If you lean your head back and look carefully, you will find small faces hidden in the foliage. To the left, behind the altar, a noblewoman sits playing cards.
According to one legend, she raised the money to build the church through card games; another has her as the lady of the Vinderslevgård estate, playing for the farm In the churchyard, you can "say hello" to one of the countless artisans who helped build the numerous village churches, as one of the few artisan gravestones preserved in Denmark can be found here.
In Vinderslev, he is depicted in a long robe with a pointed hat, surrounded by his blacksmith's tools and a timber axe, as well as the fruits of his labour: a piece of the church wall and a church bell. Both entrances to the church have pillars and decorated fields above the doors: Christ and two birds to the north, and a lion and an eagle to the south. Open all year from sunrise to sunset.